If you've ever been interested in flipping, renovating, or investing in a home, surprise surprise – it takes more than watching hours of HGTV. Now is actually a great time for homeowners to sell investment properties due to low inventory, so we thought we'd share a few best practices for flipping houses and a few lessons learned from our Reston home renovation earlier this year.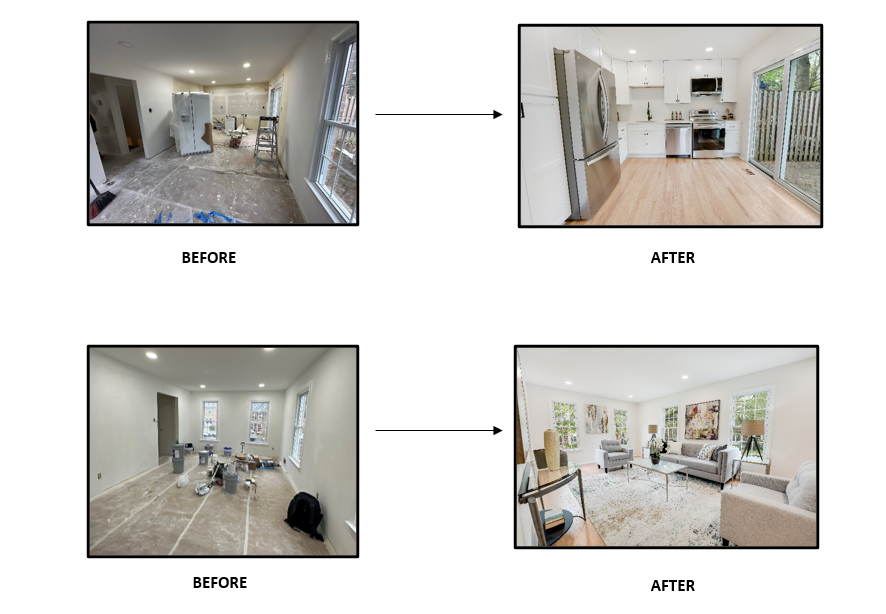 FIND THE RIGHT HOME, AT THE RIGHT PRICE, IN THE RIGHT MARKET: Selecting the right property takes careful planning. When it comes to investing in a home, you need to make sure you're analyzing not only the condition of the house, but also comparing the recent homes that have sold in the neighborhood, as well as the neighborhood's desirable features. The profit is made when you buy the house, not when you sell it. If you start too high, you are already in trouble.
MANAGE THE PROJECT WELL: Careful planning and management will help minimize surprises so you can maximize profit. From budgeting costs to estimating timelines, a clear sense of your goals is essential. Be sure to add one or two stand-out improvements or elements that will make the home buzz-worthy, and find the right contractors to carry out your vision. Whenever possible, use fixed-cost pricing for accountability with your contractors.
MARKET WITH QUALITY AND CARE: Find a great Realtor to drive demand and negotiate hard to get you the highest price. Invest the money and time to stage the home appropriately, take high-quality pictures and video tours, and market the features effectively. Be sure to invite neighbors to the Open House, as they may have friends who want to purchase the home and move into the neighborhood.
LESSON LEARNED: Check the history of permits on the home, and make sure you are extremely clear about what permits you need to pull for the work you are doing. After closing, we found out that the home we bought had replaced its electric panel but never had it inspected. We had pulled electrical permits to add some new lights, but upon inspection, were told we needed to have the whole system approved even though it was done 5+ years ago. Surprise expenses will happen, but you want to keep them to a minimum.
Renovating homes can be a profitable venture, but success hinges on thorough market research, accurate financial planning and project management, and quality marketing. If you're interested in learning more about renovating a property or are looking for a real estate company to help you through the process, give us a call! We have great experience in the local Northern Virginia real estate market and the project management process. We also have great connections to trusted contractors and will handle all the marketing as a part of our services.
There's always uncertainty in investments, but with a quality team and these lessons in hand, you're well on your way to a successful home renovation!