Hey everyone, I hope you've had a wonderful summer so far. A special shout out to all the other parents that are trying to get your kids back on a regular sleep schedule before school. It's looking pretty rough at our house, so you are not alone! There are a lot of interesting things happening in the real estate market right now, so let's get right into it!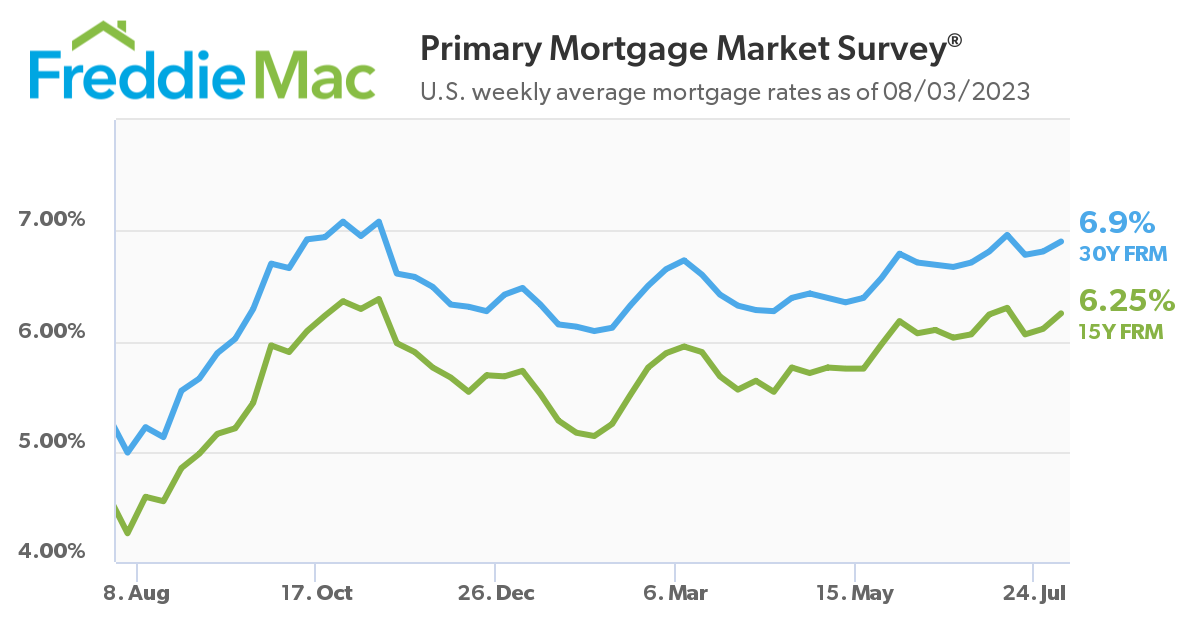 Let's start off by taking a look at interest rates. Trending around 6.9%, they are staying high with no near-term hopes of much decrease due to consistent inflation.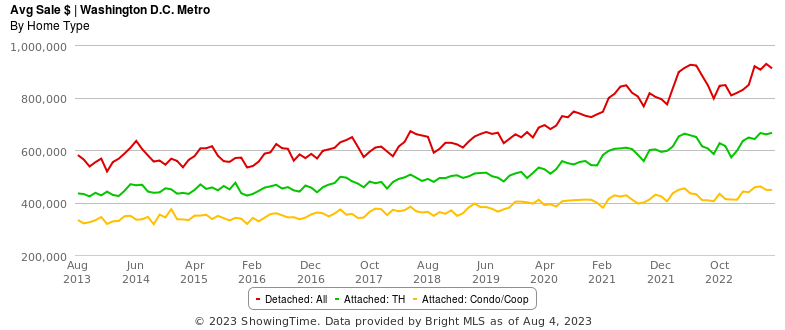 Higher interest rates have been around for over a year and a half now. Those who held out believing that rising rates would cause prices to fall continue to be disappointed, while prices continue to climb in most regions of the DC area. This chart shows the average sales price over the past 10 years throughout the entire DC Metro area including MD and Northern Virginia. While there was a dip last fall when interest rates first jumped up, prices have recovered and continued to climb this year to all-time highs for single-family homes and townhouses, with Condos improving, but not yet fully recovered.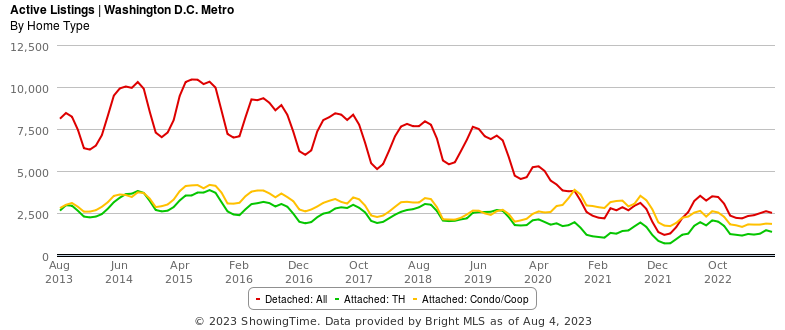 The number of Active Listings in the DC Metro area has continued to decrease. Detached homes are in the most demand, but all housing types are down around 30% compared to this time last year.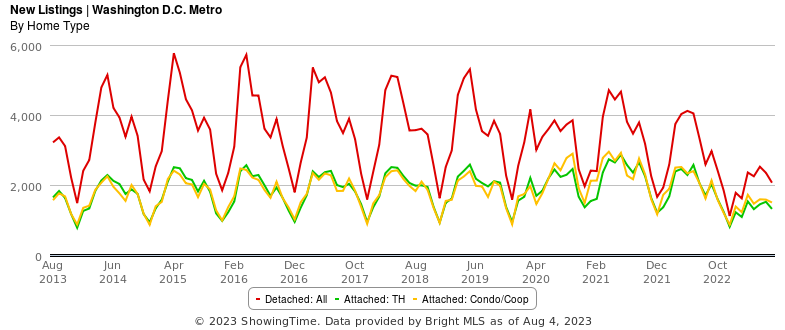 Active listings remain low because demand is high and the number of new listings hitting the market remains below the number we need to meet that demand. This is also most pronounced for detached homes, where listings are down 38% from this time last year. However, there is a glaring exception when you dig deeper into the numbers.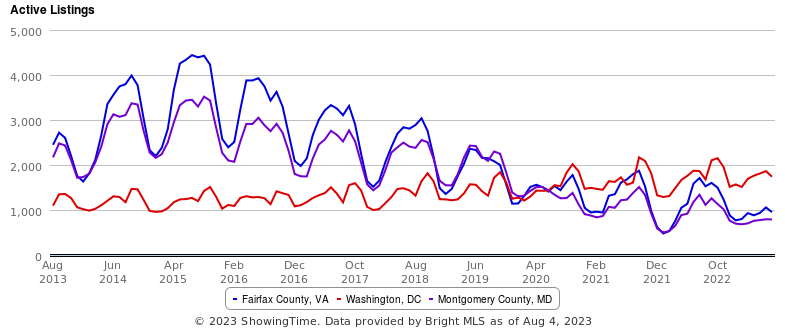 Take a look at this chart showing active listings over the past 10 years, divided by the District in Red, Fairfax County, Virginia in Blue and Montgomery County, MD in Purple. The number of active listings in DC is typically around 1,200, while Fairfax and Montgomery counties were around 2,500. Currently, it's flipped with more active listings in the district and fewer in Fairfax and Montgomery County—and the gap appears to be growing.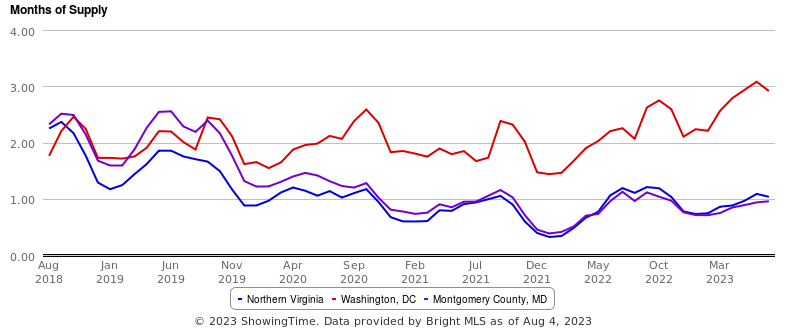 When you look at Months of Supply, which is the clearest indicator of the strength of the market, this becomes even more pronounced. There is only 1 month's supply of housing in Fairfax and Montgomery counties, and we are at 3 months in DC. Three months is the level where prices typically stabilize. If it continues to rise above 4 months, we should see prices coming down in the District. In Virginia and Maryland, we are firmly in a seller's market at one month of inventory and prices should continue to rise.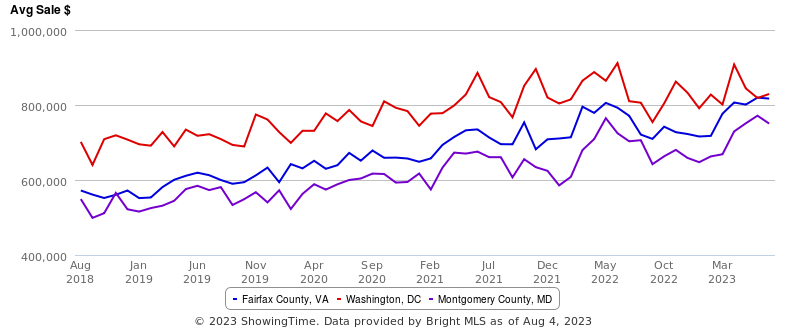 Another fascinating chart here shows that the average home price in Fairfax County just surpassed that of Washington DC, which is extremely rare and the result of stagnation of pricing in DC and the strong demand in the suburbs. We need to keep an eye on what's happening in the District. It's possible that a lot of bad press is keeping people away right now.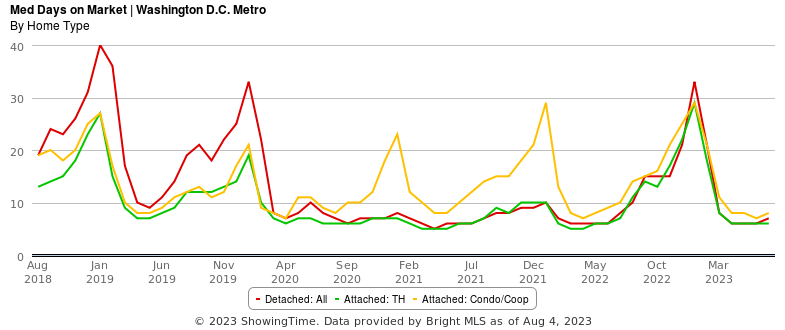 Going back to the DC Metro Area as a whole, the median days on the market remains low around 8 days. Homes are still continuing to move quickly due to the lack of active homes on the market.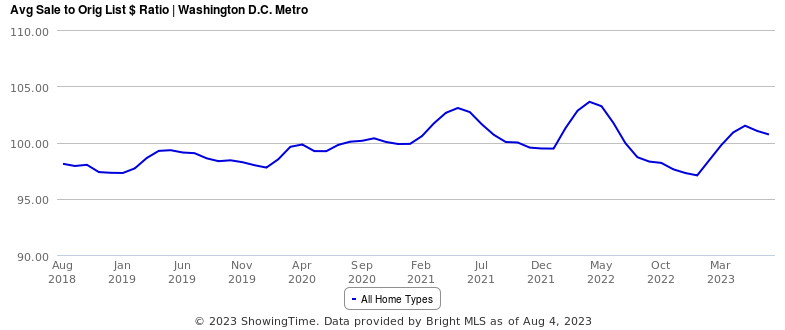 The average sales price to original list price ratio remains above 100% but it decreased slightly from last month. Homes are still being sold for above asking price, demonstrating that it remains a great time for homeowners to sell.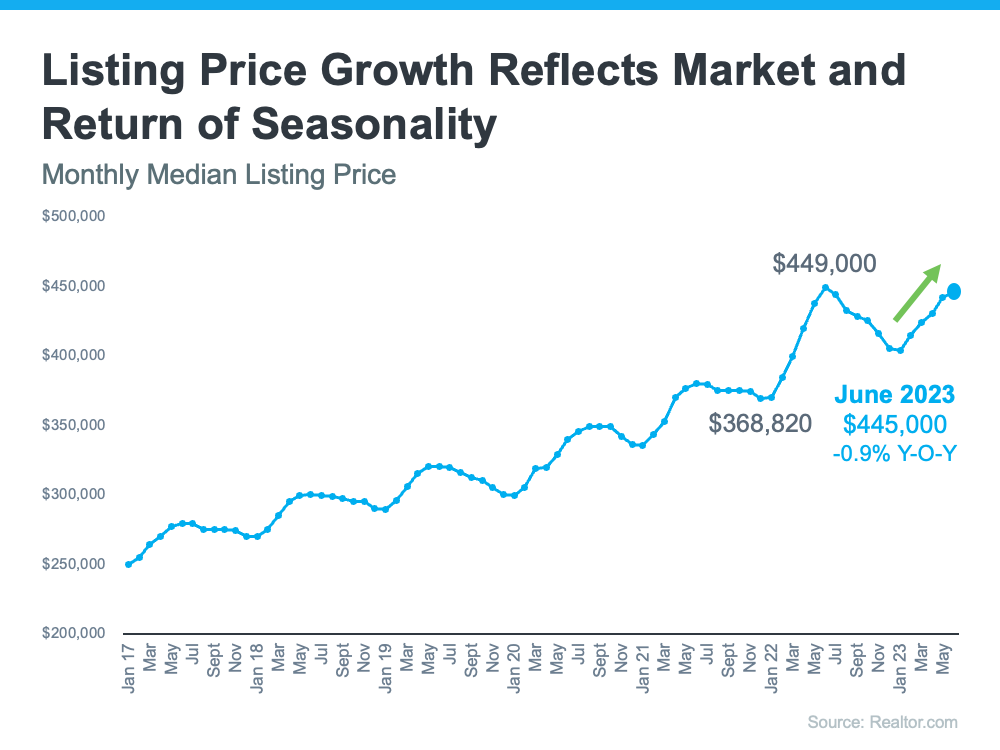 Nationally, we've continued to see the increase in listing prices across the last few months, which is indicative of a return to normalcy. As you can see, prices typically increase from the winter to summer months, while dropping back down in the fall. This means that if you're a buyer looking to make a move in the next year, the next few months may be the best time to look, as we anticipate the normal seasonal slowdown to take place in the Fall.
And that's it for this month! We have an exciting back-to-school coffee giveaway coming up, so be sure you're following us on social media to stay in the loop there.

We're also excited to introduce our Test Your Real Estate Knowledge series in our newsletter, where you can guess what an actively listed house will eventually sell for each month. It will be free to enter, and we will be keeping a leader scoreboard to see who has superior realtor skills!

As life gets busier and busier in the coming weeks, please know that we're always here for you! We want to do what's best for you, your family, and your loved ones, so let us know how we can use our knowledge of the real estate market to help you achieve your goals.