Hi everyone and welcome to the May edition of our market advisor video!
Each month we take a deep dive into local real estate statistics. Having sold over 1000 homes in Northern Virginia, DC and MD, we then analyze that data and make some recommendations for buyers and sellers so they know how to use real estate to achieve their goals.
Ok, let's take a look at the latest data.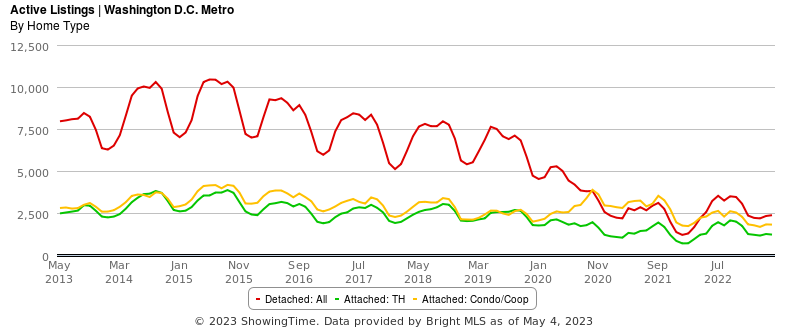 The number of homes for sale throughout the DC region remains historically low. This April the DC area averaged 2,300 detached homes for sale at any given moment when we typically average around 7,000.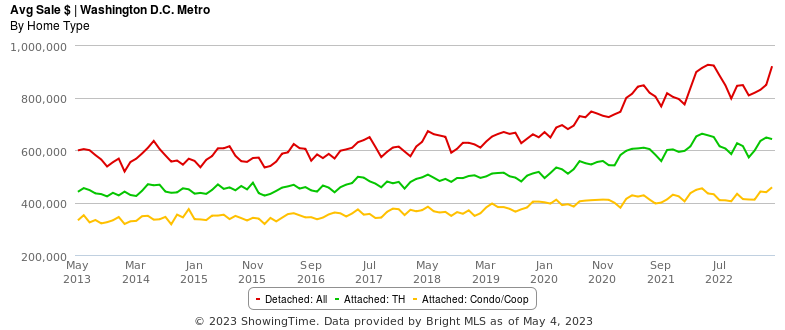 Average sales prices are trending upwards with a significant upward trend for attached homes, demonstrating a continued strong seller's market as buyers are paying more for homes due to low inventory and strong demand.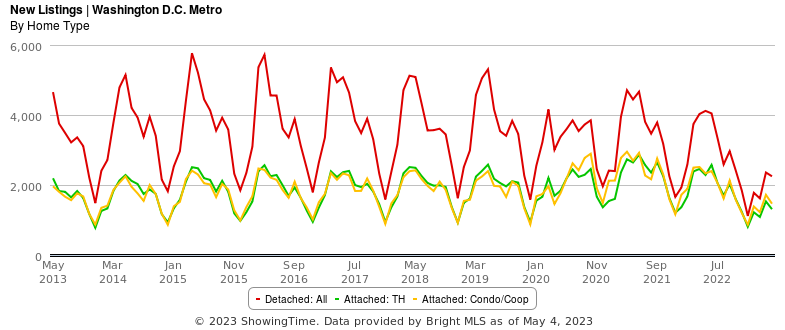 The number of new listings is generally trending upwards like normal as spring rolls on, with 2,200 new listings this April, however, we are more than 50% lower than the 5,000 we typically see for this time of year.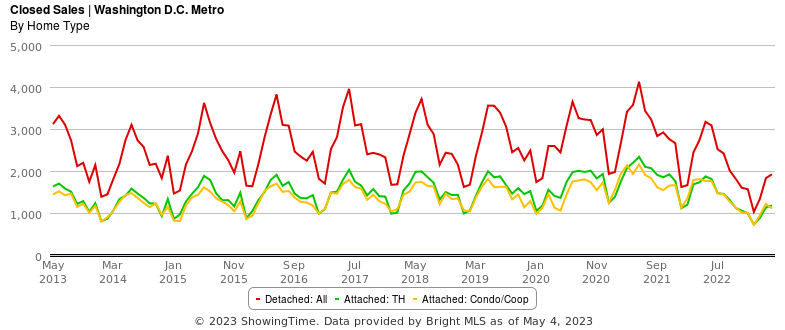 The amount of closed sales has been increasing since January, though the amount of closed sales is still down nearly 30% from last year for detached homes and that yearly decline is even more for townhouses.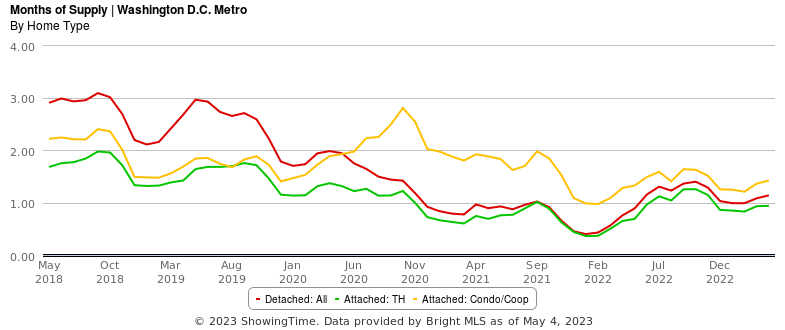 Months of supply is slightly increasing, and has increased off the historical lows of last year due to rising interest rates, however it is also still about 50% lower than normal for all types of housing including condos.
Median days on the market is significantly decreasing since the start of the year across all types of homes. The current days on market looks similar to Spring 2019 levels and currently sites under 10 days for all housing types, meaning the average house is on the market for less than 10 days before it goes under contract so buyers need to move fast.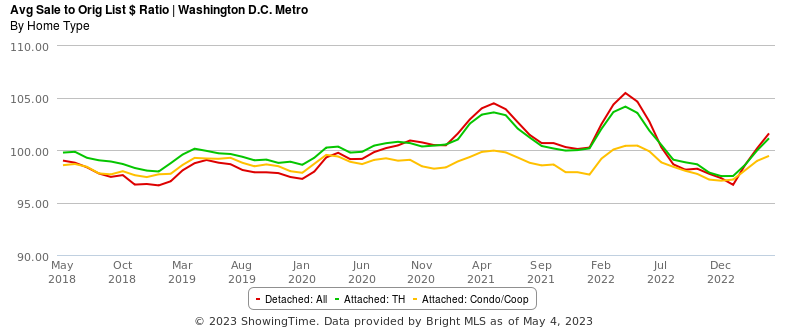 Surprisingly, the average sale to original list price ratio is now back above 100%, meaning that buyers are now typically competing and the final sales price is ending up above the asking price.
So putting it all together, the market remains tight. Inventory is low and even though demand as decreased as well, the drop in the number of homes for sale has kept the supply and demand ratio in the sellers favor. We are regularly seeing multiple offers on houses.

If you are a buyer, you need to ensure that you are fully approved for a loan before you start looking. Don't waste your time. We recommend setting up an online search from a Realtor instead of the online websites because that will ensure you are getting the best data and the ones that are coming soon not listed on those websites. Contact us and we will set you up with one for free. When you get to the point where you are serious about making an offer, you have to have a solid offer strategy. Many winning offers are removing home inspection and financing contingencies so you need to ensure you have your questions answered before you do that.

For sellers, it remains a great time to sell. Especially if you are moving away, or selling an investment property. To be clear, demand, is much lower than it has been over the past few years, however, the supply is so low that the market is still in your favor. Will that change if supply increases? In my mind, that's the big question but it doesn't look like it will happen soon.

There is a lot to consider when buying the biggest investment of your life and we are here to guide you through the process and more importantly protect your best interest. We look at our relationship with our clients as a long term trusted advisor. You are going to buy and sell multiple times and you want someone in your corner who cares about you, and knows your future goals so they can help you understand how to use real estate to reach them. That's our mission and how we can help you. So give us a call to set up a time to chat.
And if you are looking to make a splash quickly, consider making an offer on DC's most expensive property, the Blaine Mansion in DC just listed at $29.5M. The residence and law office of one of Obama's diplomats and former advisors. As Ted says, there's nothing to it but to do it!
We are happy to announce our Summer Bash client event taking place on June 17th for clients and VIPs of the Pierson Team. We will have catered food, paddle boarding, water slides, bounce houses, swimming, a dessert truck and lots of summery drinks. It will be fun for all ages and a great way to kick off the summer. Keep an eye out for the evite coming soon!
That's it for this month. If there is ever anything we can do for you, please don't hesitate to call us. We are now taking new clients and we are never too busy for any of your referrals.