Looking to buy or sell a home? Want to know what's going on in the local real estate market? We have everything you need to know here in our newest market update.
Rising interest rates caused a lot of buyers to put their purchase decisions on hold, ultimately decreasing demand and lowering the number of homes selling. December 2022 saw the fewest number of homes sell in 7 years.
The average 30 year fixed rate mortgage is currently around 6%. Below the 7% number we saw earlier this year but still well above the 3.5% rates of a year ago. Higher interest rates make your monthly payment higher ultimately increasing the cost of buying homes.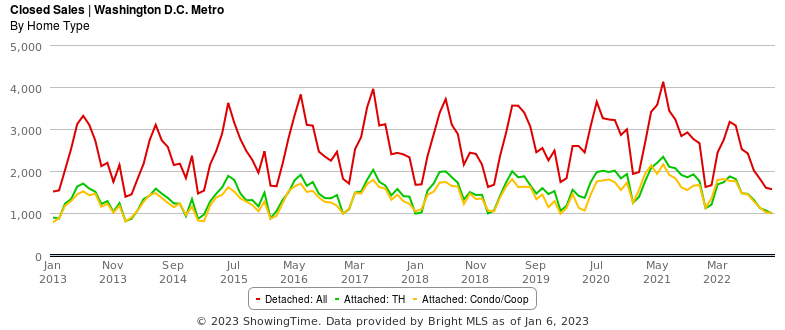 Rising interest rates caused a lot of buyers to put their purchase decisions on hold, ultimately decreasing demand and lowering the number of homes selling. December 2022 saw the fewest number of homes sell in 7 years.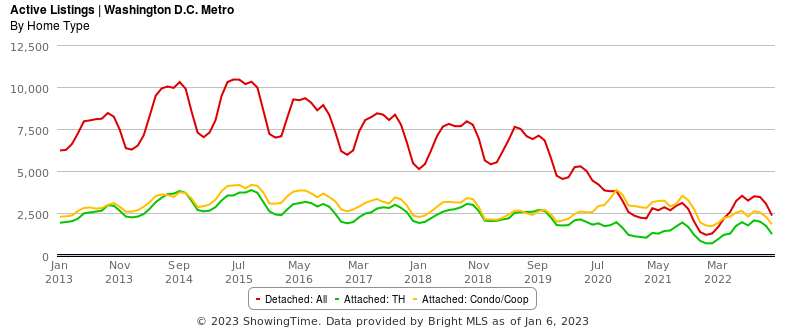 You would think the decrease in demand would cause the number of homes for sale to rise, but as you can see in this chart, the number of homes for sale remains extremely low.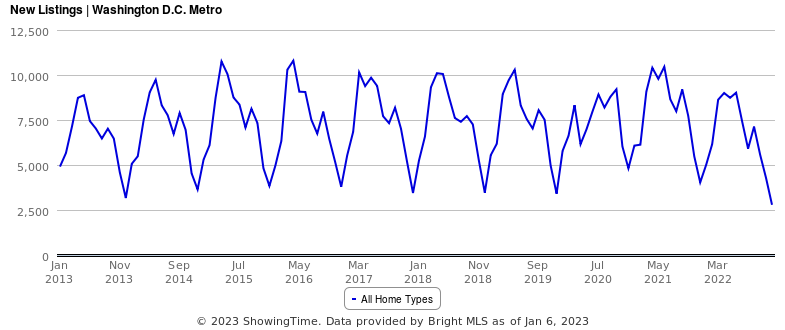 December 2022 saw the lowest number of new homes coming on the market of any month in 10 years. Each December throughout the entire DC metro area we typically see about 3,600 new listings come on the market for sale. This December we saw 2,700. A 20% drop is significant.
So basic supply and demand economics are at play here and there are competing issues.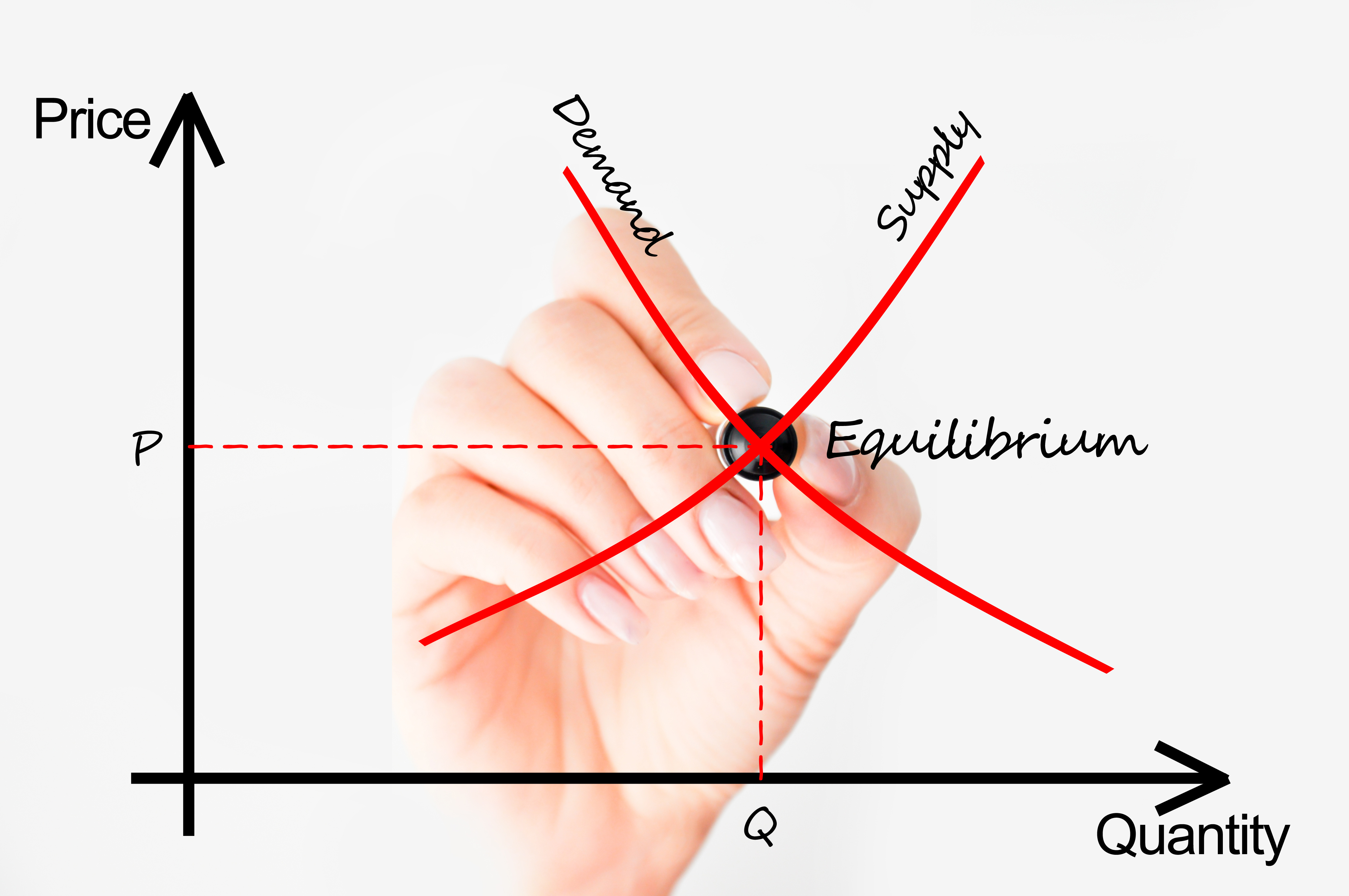 On one hand, higher interest rates should increase the cost of homes, pushing buyers out of the market and decreasing demand. That decreased demand should cause the supply of homes to rise which would push prices down. On the other hand, we see a decrease in supply, which typically leads to an increase in prices. Ultimately, both of these are happening at the same time. These competing pressures are keeping prices near a state of equilibrium.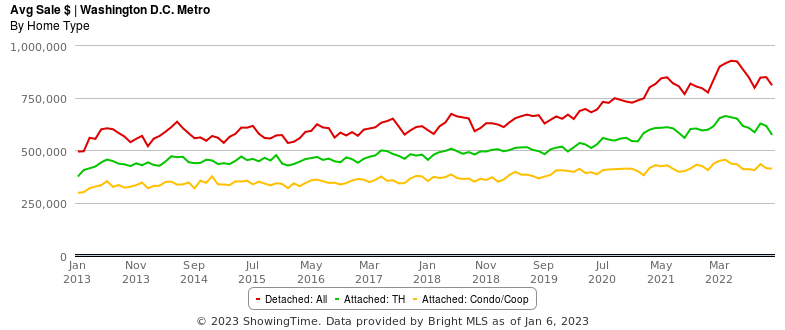 In this chart of sales prices over the past 10 years, you can see that the prices have fallen off their peaks of early 2022 when escalations were driving prices exceptionally high, however, they are not in a free fall. Prices decreased when interest rates shot quickly from 3-7% over the summer but then stabilized when rates decreased back to around 6. Average sales prices are are still about 17% higher than prepandemic levels.
And here's the big aha – which we talked about back throughout the pandemic. Even if prices do come down by 10%, the people who bought at the higher price with the lower interest rate a year ago, are still going to pay less for the house over time than the person who buys today at the higher interest rate.
So this brings us to another reason that there are less home selling and less homes for sale. A lot of people are just waiting, hoping that prices are going to come down or interest rates are going to come down.
So with all of this data what is happening right now. We showed several homes this weekend and saw multiple houses receive multiple offers. Not every house, but there is still plenty of demand for good houses. This low inventory is not giving buyers a lot of options and is currently keeping demand and prices stable.
We are hearing good news from economists about a soft landing and expectations that we are going to avoid a big recession. So at some point the question comes down to when is the right time for you or your family to make the move to the next home. Because it's not just about the payment, it's about the home, the place where you make so many of your important memories.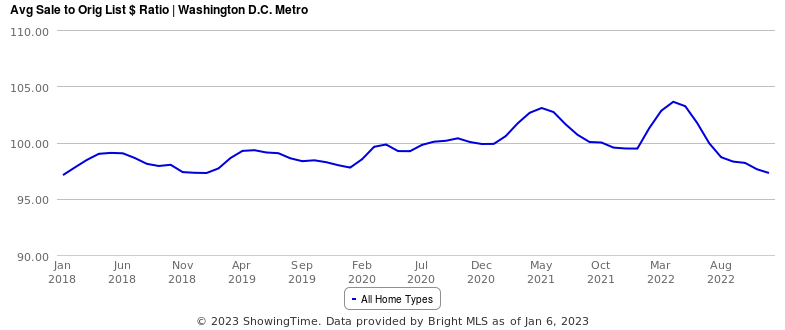 The good news for buyers is that prices have come down a little, interest rates have come down a little, and on average, the market is not as competitive as it was. The average sales price is now below the asking price, which means that you can have some contingencies again like a home inspection and appraisal!
The bottom line is that we are here to keep you informed and guide you through the process of buying and selling a home whenever the and create a plan to help you use real estate to reach your personal and financial goals.
Quick client event update for those of you who are a part of our client appreciation program. We are looking to hold a combination march madness and movie night at the a new movie theater and sports bar in the Tysons area. If you like sports you can watch the games and if you prefer movies you can go see a movie. So keep an eye out for the invitation.
That's it for now, until next time, have a great month and remember we are never too busy for you. We want to serve you and the people you care about who are looking to buy or sell a home. God bless!