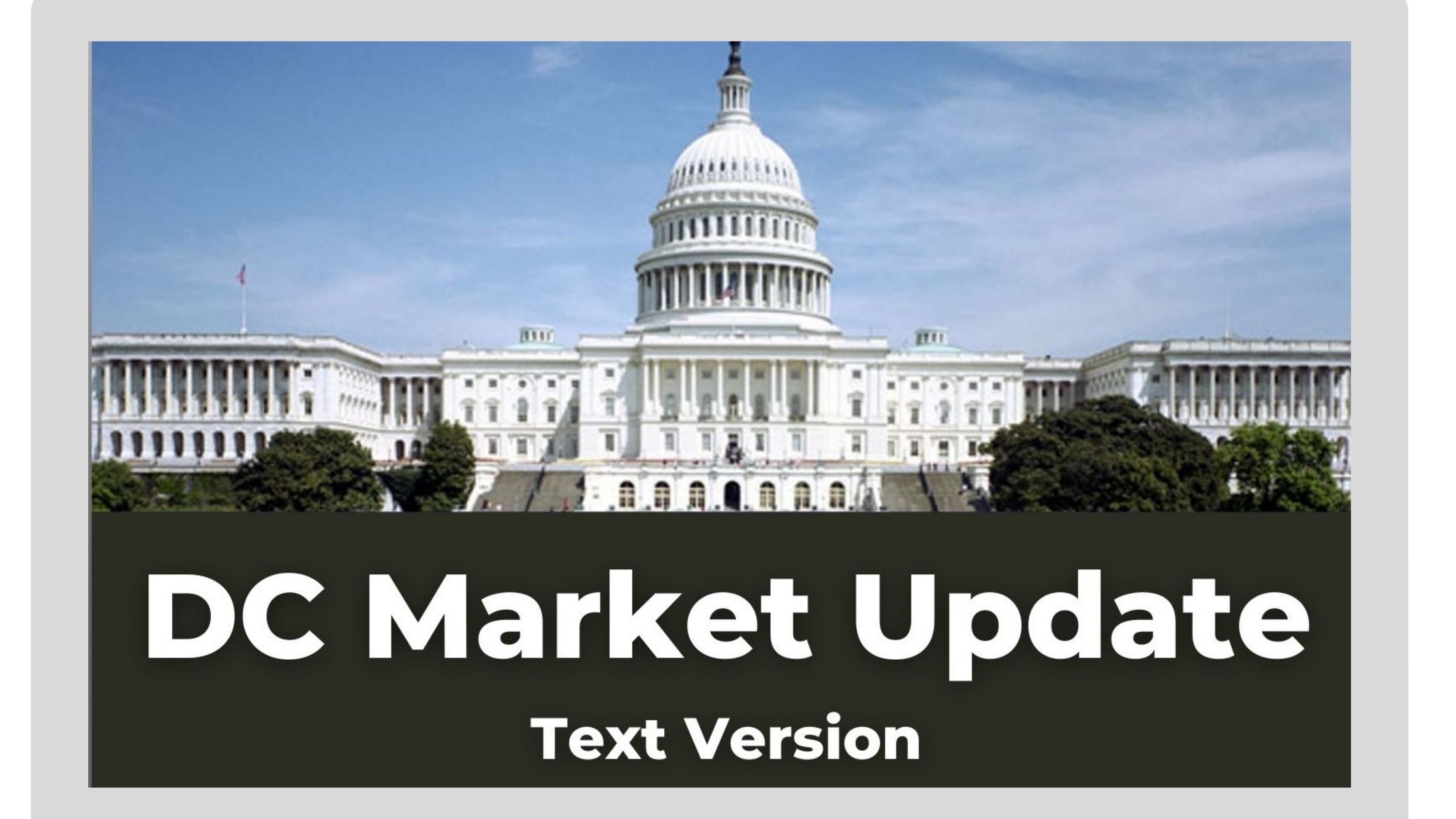 Hi everyone! Happy Summer! We're here to walk through what's happening in real estate at the moment. There is a lot of uncertainty in all the markets right now. First, we'll look at the basic stats.

Let's start with inflation, which is currently being reported as 8.6% year over year. Inflation measures the general cost of living for an individual. The government wants inflation around 2%. When prices start to rise above that, some things start to become less affordable, especially for people on fixed incomes.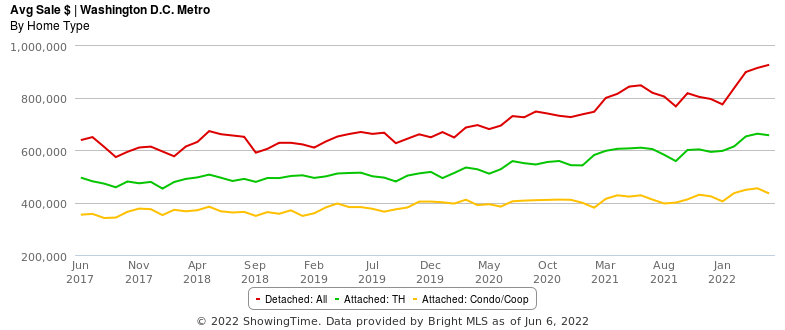 We have seen massive cost increases in real estate over the past few years. The average sales price of a single family home throughout area has gone up from $647,000 to $924,000. That's 42%! Now, that doesn't mean EVERY home has gone up 42%, but those are the average numbers.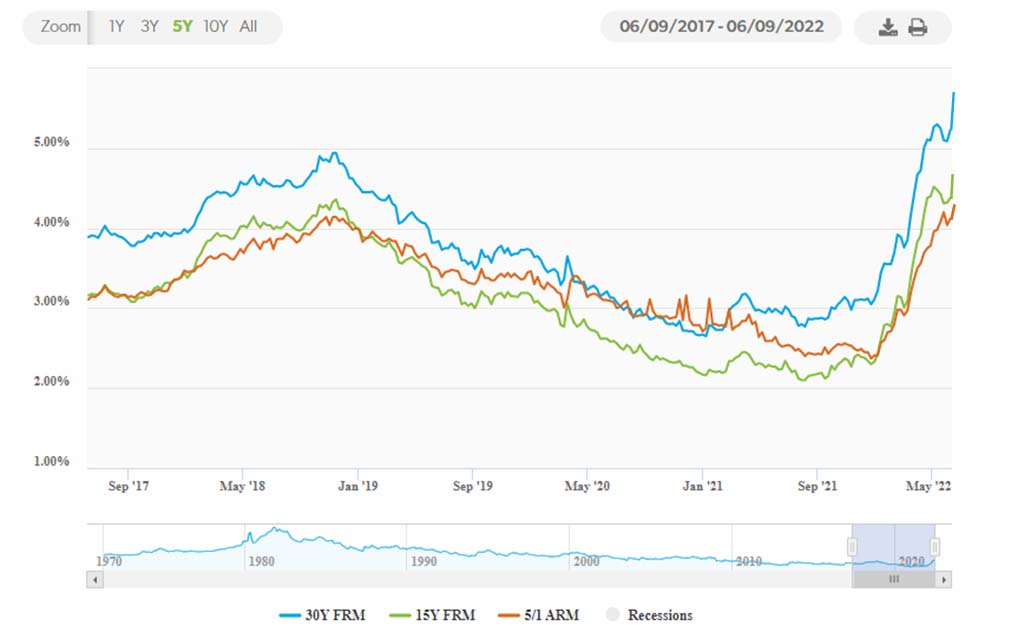 The biggest impact on real estate over the next year will be interest rates. The average mortgage interest rate is now in the high 5's. On January 1st it was around 3%. Rising rates decrease affordability and increase monthly mortgage payments for people buying homes or refinancing. If you bought or refinanced your home before Jan 2022, you are in a great place.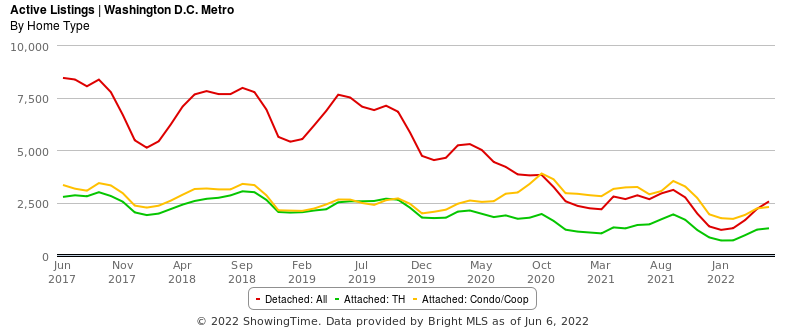 We are starting to see the effects of the rise in rates. It's not dramatic right now, as the number of active listings still remains very low. However, we can tell you that we are seeing a lot of properties receive one offer, when just a few months ago they would have received 10. We will really see the impact of rising interest rates several months after the rates increase, so we're going to need to check back on this in September.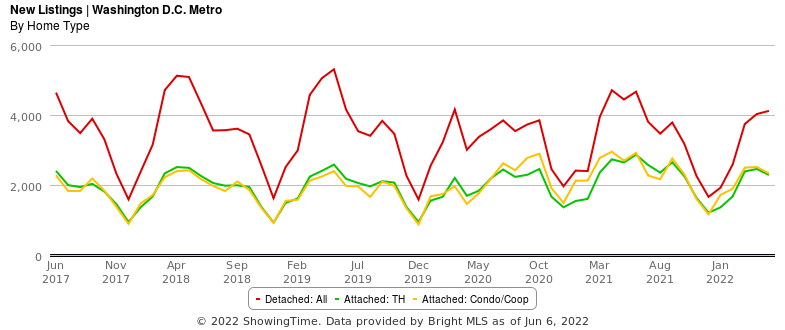 The number of new listings of single family homes coming on the market in May – around 4,000 – was disappointing. We usually have had about 5,000 coming on each May and we need more inventory to meet demand. That lower supply will keep the market tight and may mask the impact of rising interest rates for a little while.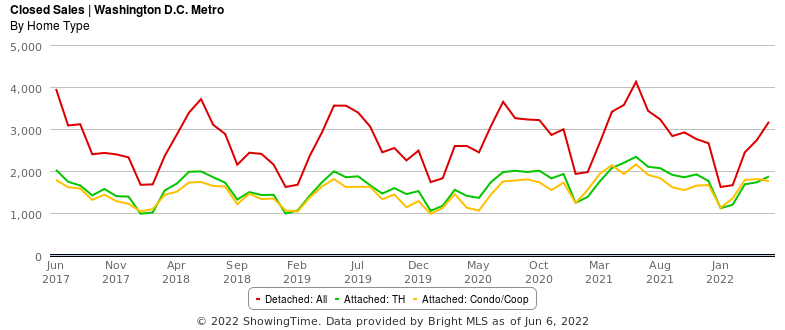 The number of homes selling remains on trend for this time of year, so the demand is still strong, which is good news for sellers.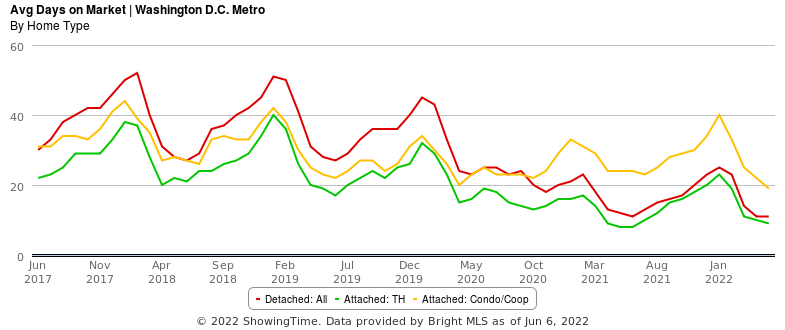 The average time it took to sell a home remained very short, showing us that buyers are still making quick offers and confirming that demand has been strong.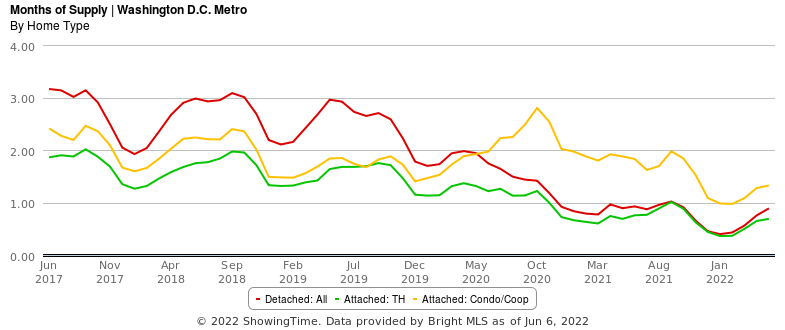 All of this has continued to keep the months of supply of housing low—around 1 month, although we are seeing a little bit of movement. We need this to get up above 2 months to really see some change and a stable market is at 3 months.
So what does all this mean for you?
Well, if you are a BUYER, we feel your pain. Mortgage rates have increased a lot and competition is still there. We recommend our buyers continue to look but be smart. We still believe that interest rates can go higher, so buying now may still be better than waiting.
If you are a BUYER, we recommend selling sooner rather than later, as it appears that rising rates will cause the market to soften. The best homes will always sell the quickest, but if you have a home that needs some polishing or is on a major road, you want to sell when the market is hot and buyers overlook that. If you have to sell and buy, it's somewhat of a wash so do it when it's right for you.
If you are an INVESTOR, I think you might find some interesting options over the next year. I would be very cautious buying now, but I would position yourself to move quickly if opportunities present themselves. We have a list of investors we reach out to with unique opportunities, so let us know if you want us to add you to that list.
If you are considering BUILDING/new construction right now, just know that you won't know what your payment will be when you close, since it takes 6-12 months to build, and you don't lock in your rate until a few months before you close. Some buyers that are under construction right now wrote their contract when interest rates were at 2.5% and will find out that their mortgage is actually going to be closer to 6% with the building is done. That is a HUGE difference, so be very careful with new construction right now.
For everyone, now is the time to return to solid financial fundamentals. Save money, watch expenses, and interrogate the truth, meaning, don't hope that things will be good, make sure you understand your investments and work with professionals that have integrity and a proven track record or success.
And that is who we are, your trusted real estate advisors. So if you are thinking of buying or selling a home anytime soon, give us a call and we will help you create a strategy to use real estate to achieve your long term personal and financial goals and walk with you through uncertain times.
As always, we are here for you and anyone you know who is looking to buy and home and we are never too busy for your referrals. Have a create week and we'll see you next month.