CLICK
HERE
FOR THE VIDEO VERSION OF OUR UPDATE!
Welcome to the Tim Pierson Team's Market update where we help you make sense of what's happening in DC Real estate market. We'll start by reviewing the recent market data and then we'll talk about how interest rates and inflation are impacting buyers and sellers.
Over the past month, the number of active listings for sale remained historically low, keeping demand strong.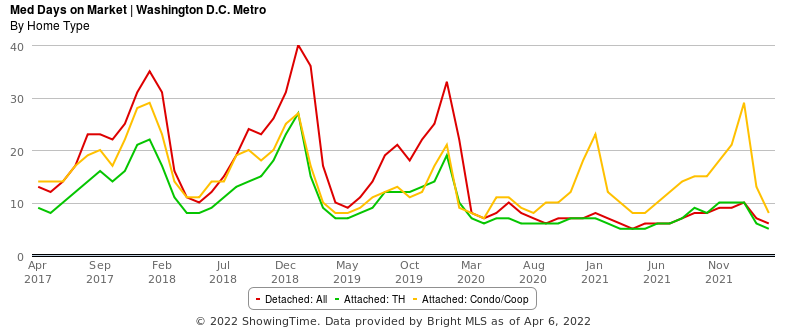 In fact, the median number of days that homes lasted on the market was UNDER TEN for condos, townhouses, and detached homes, which is the lowest we have seen in 10 years.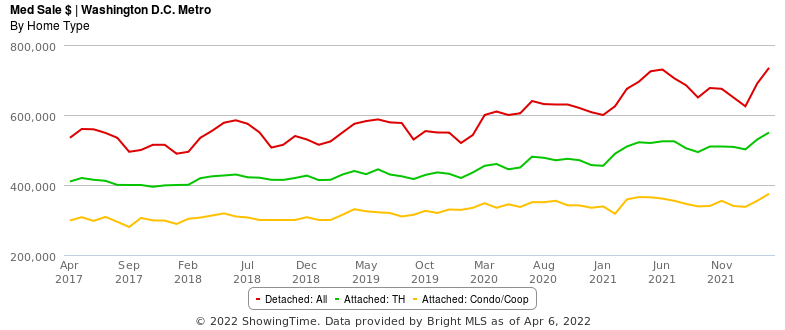 This strong demand has caused prices to continue to rise across condos, townhouses, and detached homes…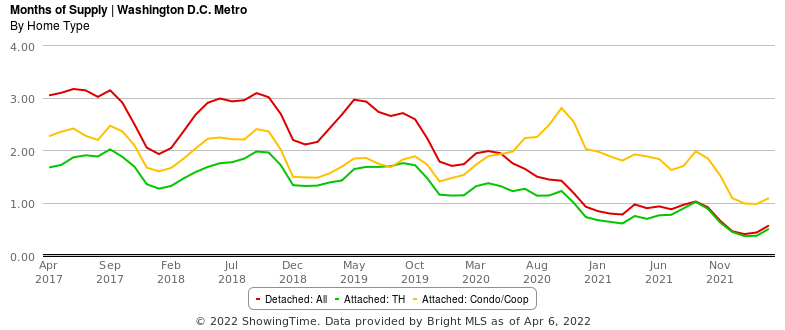 …and has kept the supply well below the three months' stability line, which has continued the seller's market.
But there has been a dramatic change in the market in the past 4 weeks that is causing a lot of concern.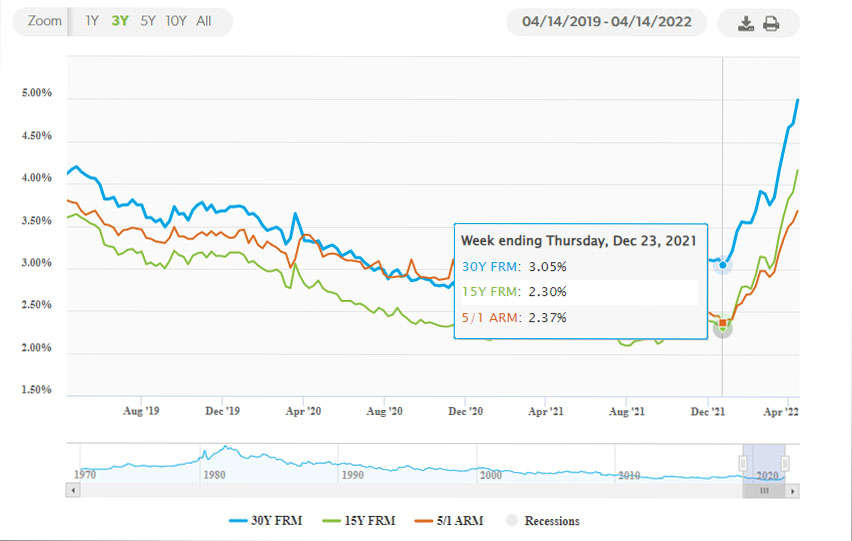 Four months ago, the average interest rate for a 30-year fixed rate mortgage was 3%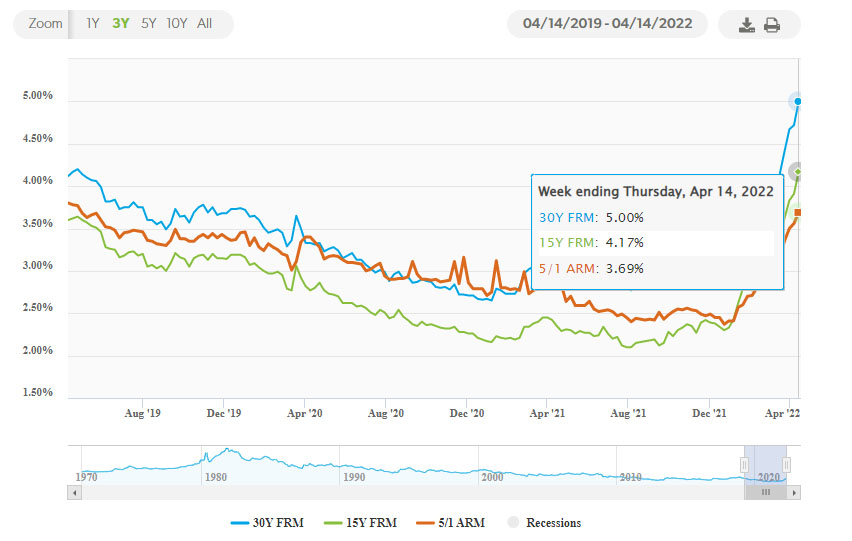 As of a month ago, that had risen to 4%, however, within the past few weeks, it has risen to 5%. That is a 2% increase in the rate in 4 months, which equates to a 40% INCREASE in the amount of interest you pay. That is a shocking rise in a very small amount of time. We typically see interest rates move maybe a quarter percent over three months, but this move is dramatic. Here's what it means for some buyers, and here's why it's so important.
A buyer with a $500,000 loan would have paid $2,108 a month for that loan at 3%. Now, they are paying $2,684 at 5%. Over 30 years, that amounts to an extra $207,000 of interest.

A buyer with a loan for $1,000,0000 was paying $4,216, and is now paying $5,368 for an extra $414,000 in interest over 30 years.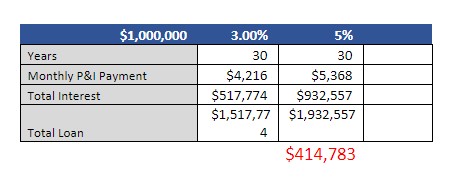 You can see how this is making buyers pause to re-evaluate. The question on everyone's mind is, "where are interest rates going to go next?"
And this is the big question for buyers and sellers…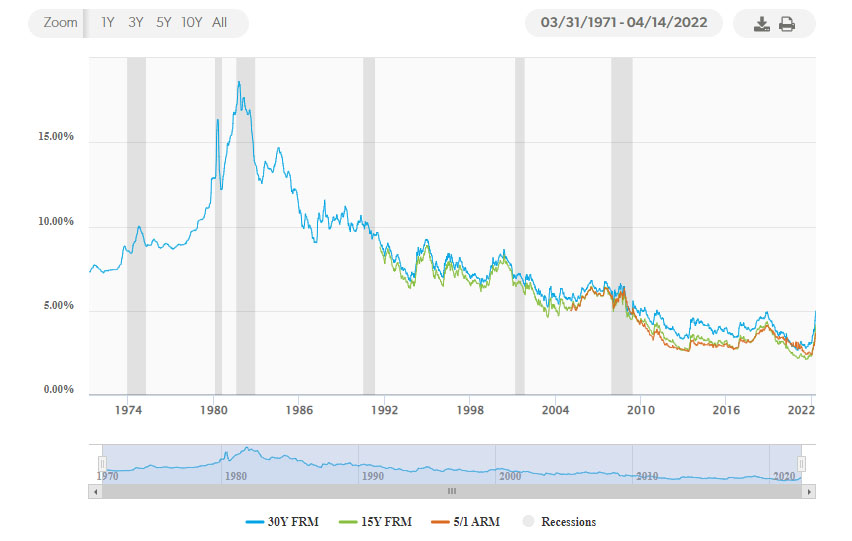 Since the Great Recession in 2008, we have seen interest rates below 5%, however, the average mortgage rates over the past 50 years have been between 6 to 8%.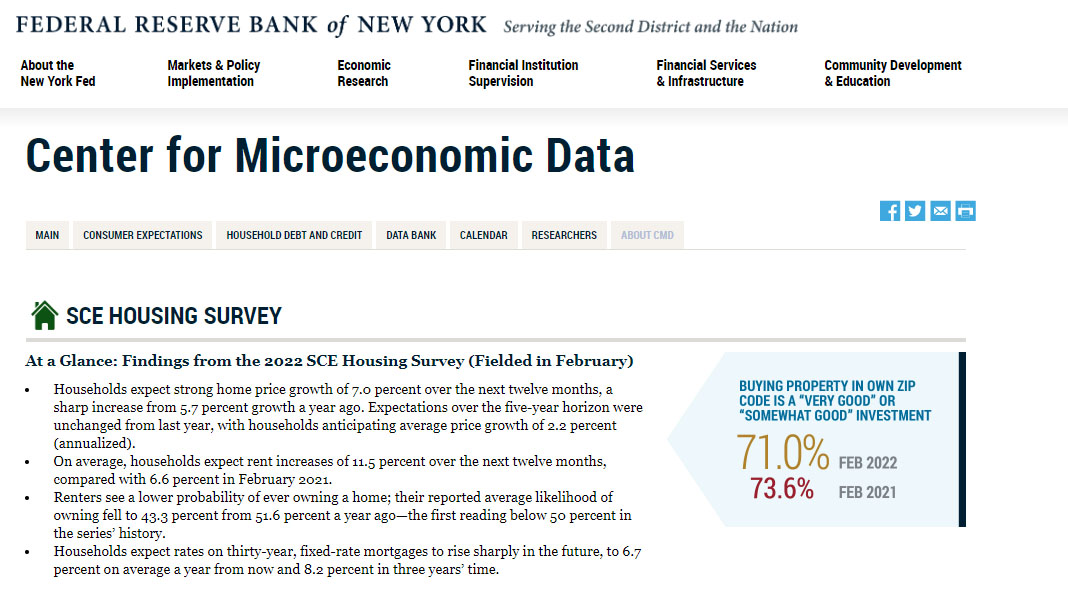 In a survey of homeowners just released by the Federal Reserve, they found that the average person felt that rates would be in the high 6's a year from now and over 8 within 3 years. Young buyers aren't prepared for this, because they have only ever known low-interest rates. You may recall that last month we showed that housing affordability was actually better than average in this period of low-interest rates.
So, we did some research and looked over the span of the past 30 years to see what happened to home prices in the year following a mortgage rate increase of 1%.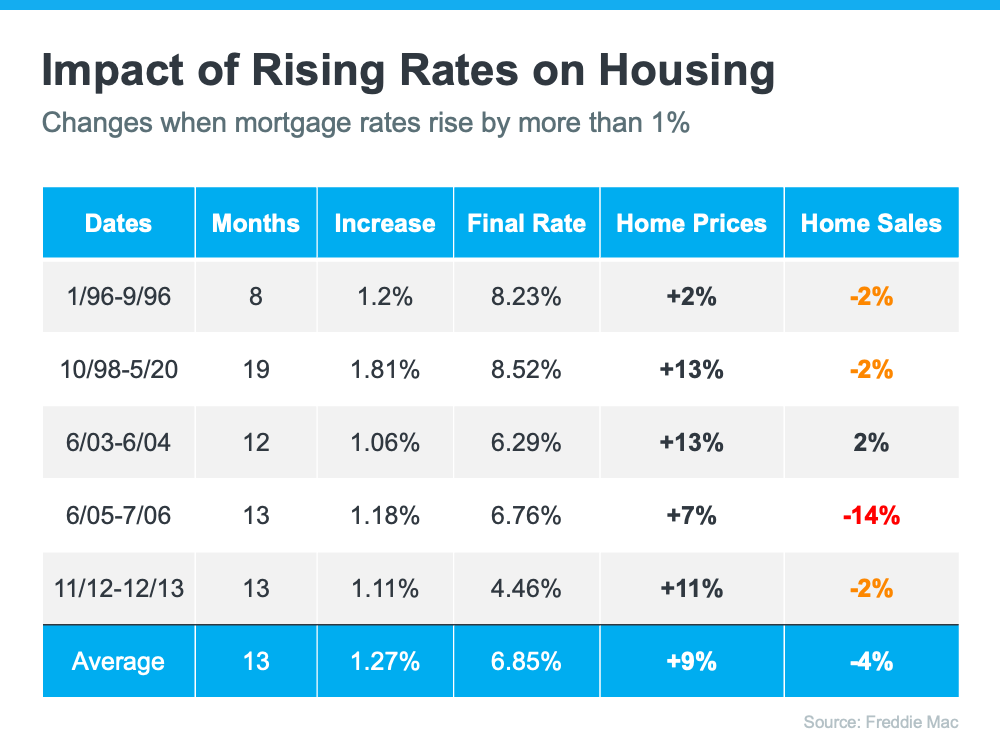 Interestingly, increased interest rates did not have a negative impact on Home Values, and in most periods actually increased. An increase in prices and interest rates creates a double whammy of affordability.
Increasing interest rates will make homes less affordable, which typically makes people stay in their homes longer.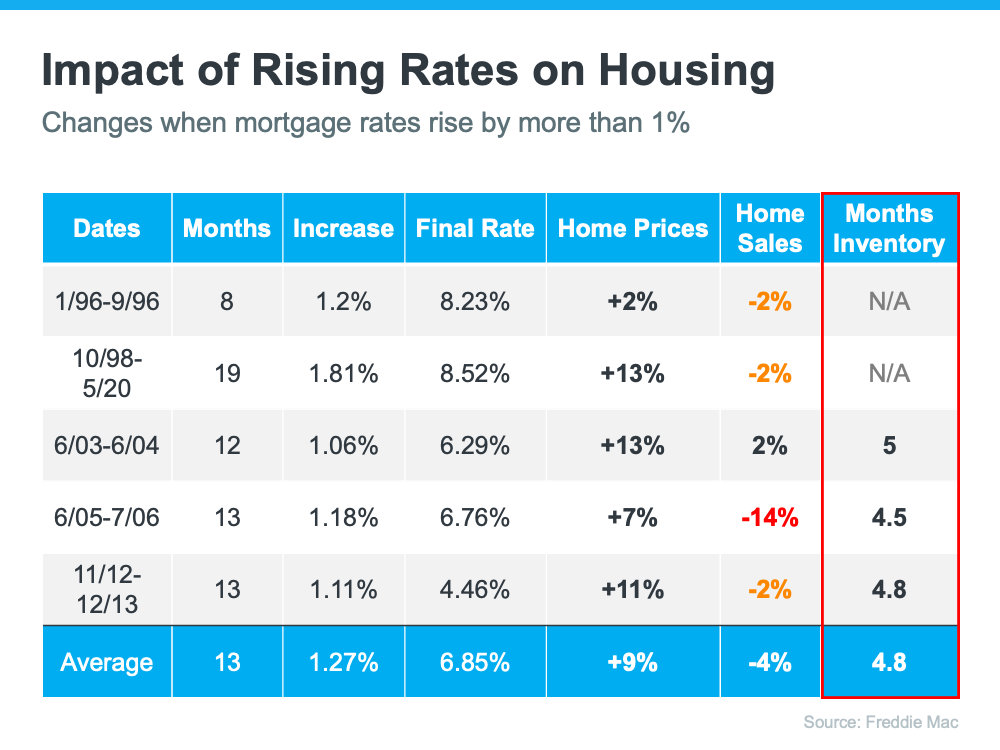 We see here that in periods of rising interest rates, home prices actually went up in the first year, however the number of homes selling went down. It's an interesting paradox. But that is what is going to happen. A lot of people are going to decide that it just doesn't make sense to give up that lower interest rate on their current home to buy a more expensive home unless they are mostly cash. And even some people who would consider downsizing may find that it doesn't make sense to downsize to a smaller price point if the interest rate is higher.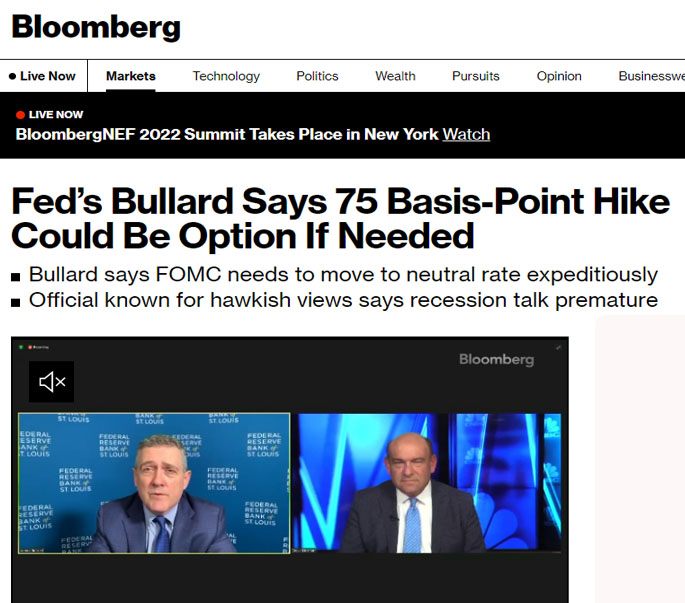 And all indications from the Fed are that interest rates will continue to rise if inflation continues.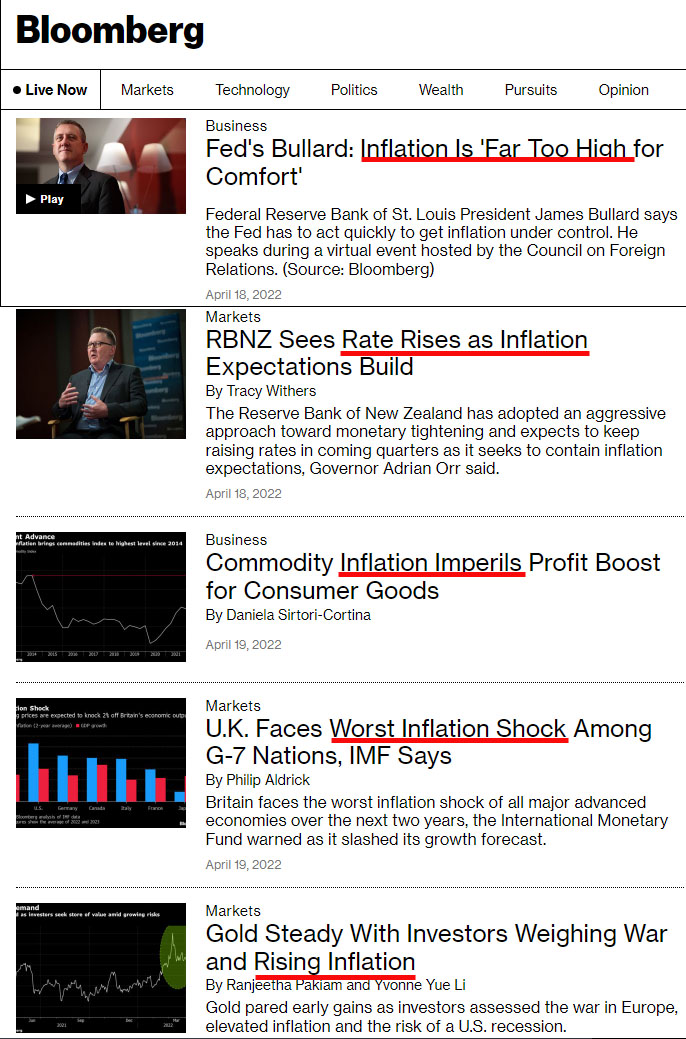 From what we are seeing in the news, inflation is still very much a concern, so we expect those interest rates will continue to rise.
So what does it all mean? I believe it will take several months, if not years, for us to determine how these rising interest rates will actually impact the market. In the past few weeks, we have seen the buyer demand cool off a little. Homes are still selling, but not with quite the same frenzy that they were. Is it a blip in the pattern or a change in the trend because of higher interest rates? We have seen incredible appreciation over the past few years, and if interest rates climb above 6%, I think there is a strong chance that we will see a pullback in prices. I can't predict the future, but I think that it will impact affordability to the point that prices will be impacted.
If you are a buyer, you have to seriously consider where you want to be in the next 5-10 years. If you think that interest rates will continue to rise, then it makes sense to try to lock in a home sooner rather than later.
If you have a property to sell and don't have to buy something else, this may be a great time to sell. If you have to buy something else, though, you have to consider the rate you will get on the new home and where you want to be in the future.
The best thing to do would be to set up a personal consultation with our team where we can assess your needs and create a strategy based on your goals regarding where you want to be, how long you want to be there, and what you want to spend.
That's it for this month. We'll see you next time.