Hello! Welcome to our latest Market update video where we help you understand what's happening in DC Metro real estate market so you can make wise real estate decisions to get further faster in life. We hope you enjoyed the summer and we are celebrating with those of you who's kids went back to school! The market remains strong so lets get right into the numbers.
Throughout the DC Area, the average number of active listings in July remained low showing a continued lack of supply necessary to meet buyer demand.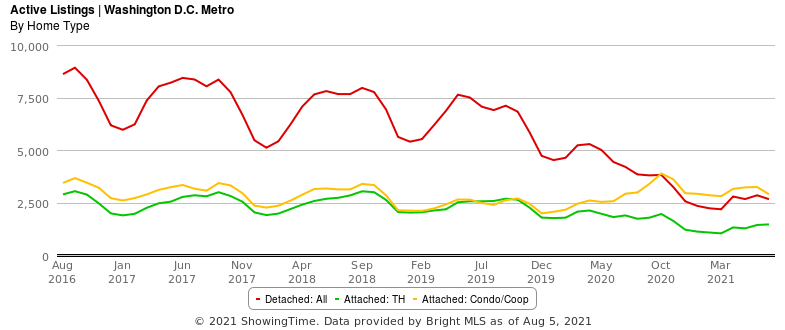 For those properties that did come on the market, the average number of days it took to sell remained very low at 8 days for detached and townhouses and around 25 days for condos.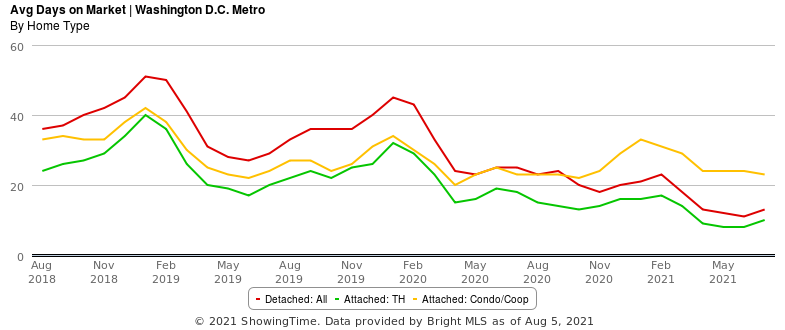 All of this created a sellers market causing prices to continue to rise throughout the Spring although there was a dip off the the peak we saw in May & June.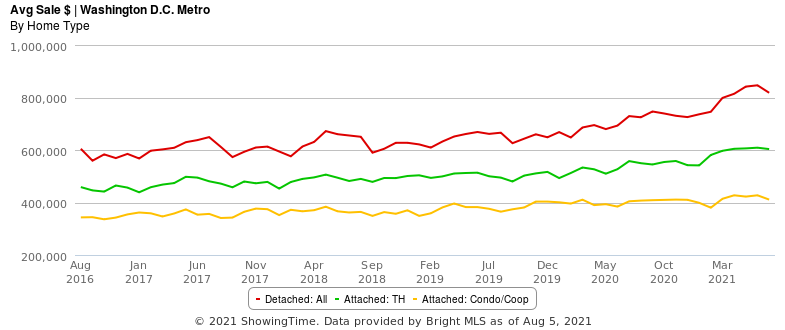 What's interesting is we ARE seeing an increase in new listings coming on the market, which we really need in order to meet the demand. We are well behind the number of new listings we need to meet the demand though so we continue to be in a sellers market.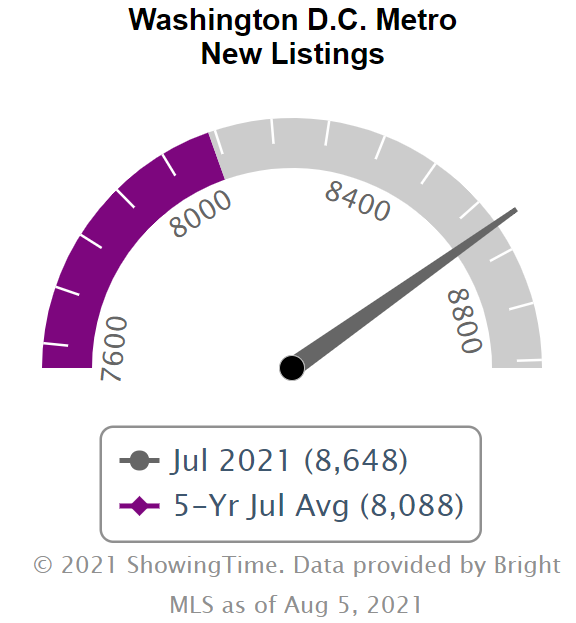 The market around DC has always been pretty strong but this spring we saw incredible demand regularly pushing sales prices above the asking price due to multiple offers and escalation clauses. We are are still seeing multiple offers and escalating prices, but it is trending back towards normal.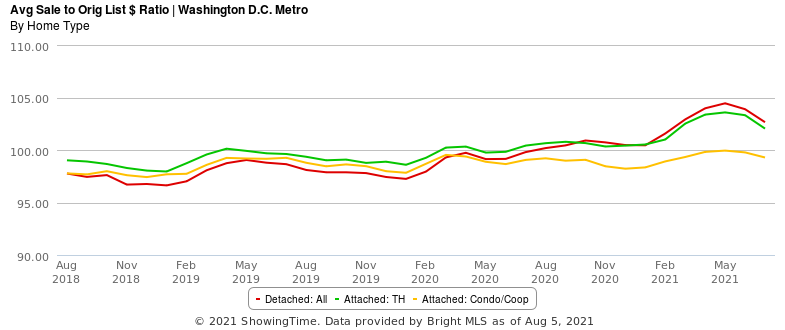 "The months supply" of housing continues to remain well below the stable three month target…. averaging around one month overall with the total DC metro area seeing detached homes and townhouses at around 1 month of supply and condos just under 2.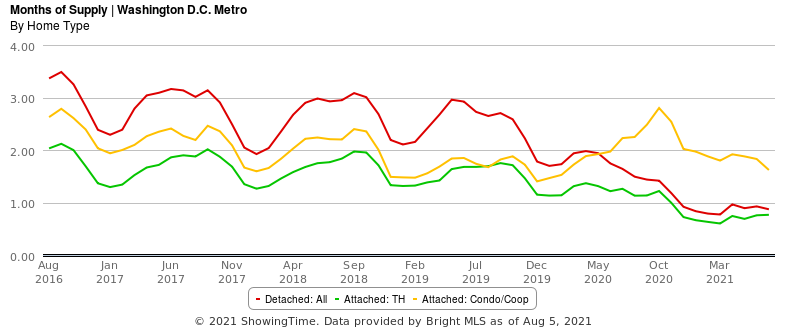 Interestingly Loudoun county is actually leading the entire area with he strongest supply and demand ratio of around half a month.. and… Arlington and DC proper being the weakest at 1.25 months. All areas are well below the three months target for a stable market though and we expect that the market will continue to be strong as long as interest rates are low.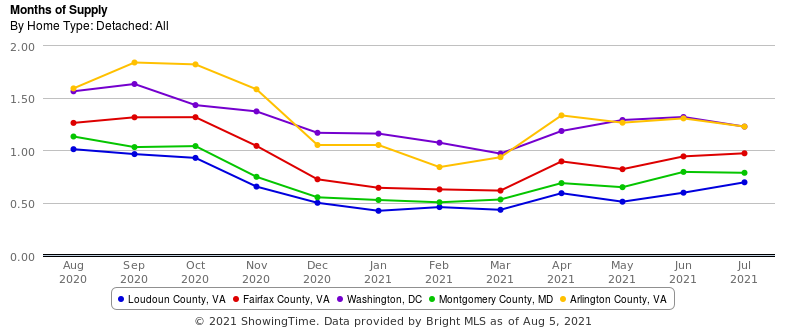 Speaking of interest rates. Take a look at interest rates over the past 10 years.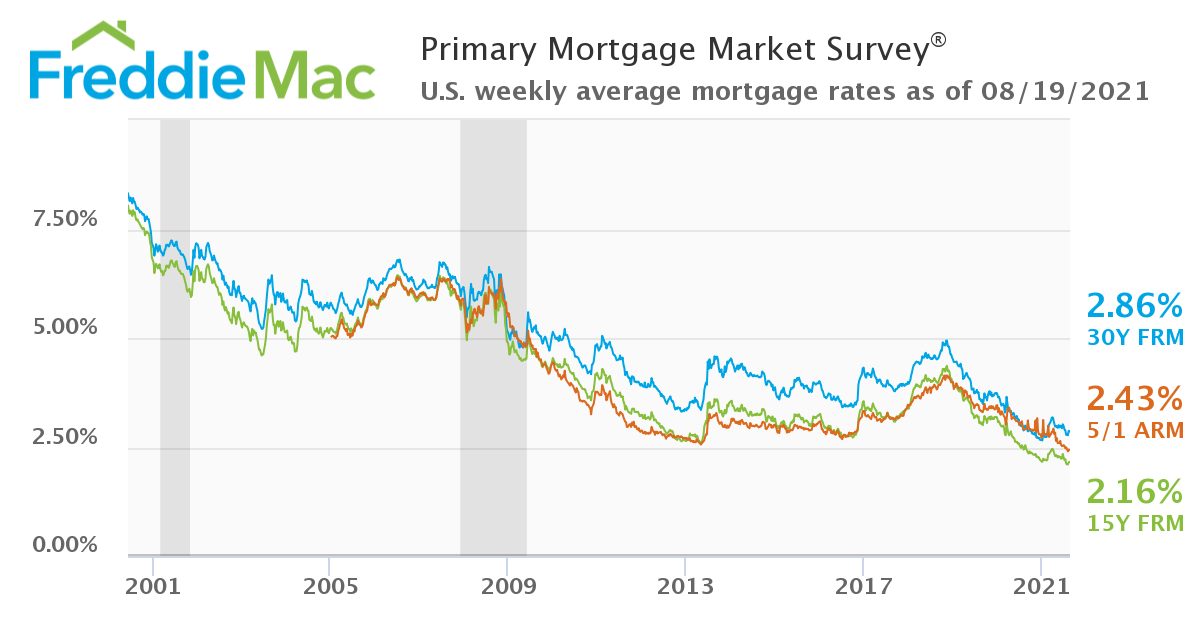 Right now we are seeing rates as low as they have ever been, which is a huge factor in the continued strength of the market. If you look since 1970, the average mortgage rate has been above 6%.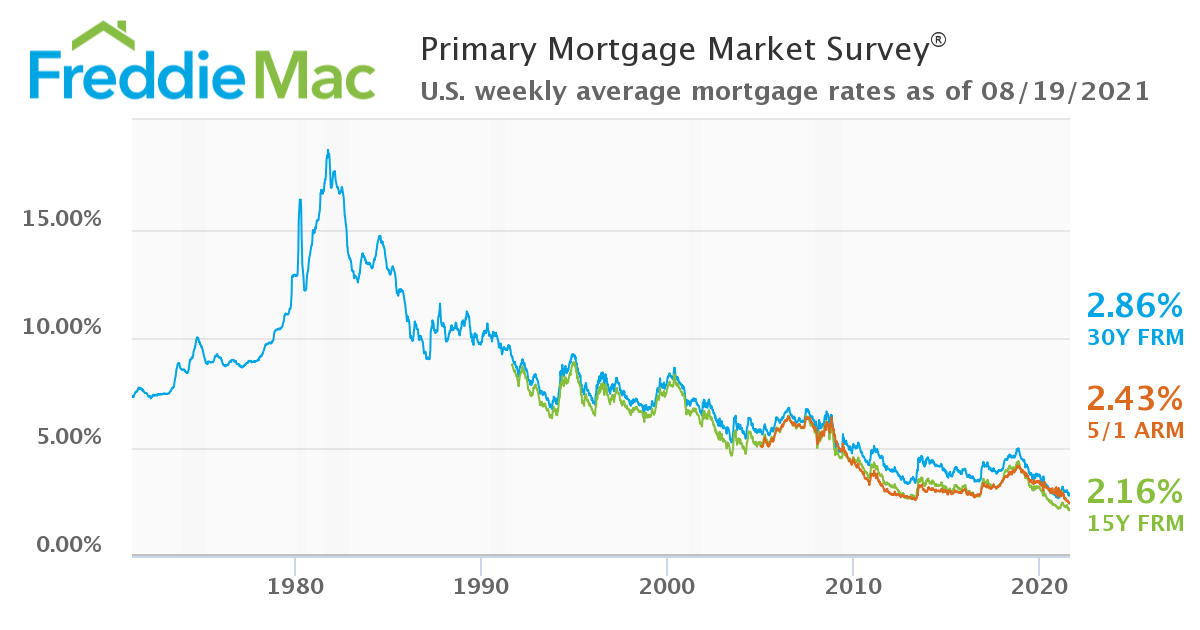 These low current rates are making it cheap for people to borrow money, which means they can borrow more money for the same payment that they would have had a few years ago at a higher interest rate. These lower payments make them more comfortable paying higher prices.
Since 2010 mortgage rates have been below 5%. Take a look at the average sales prices since then…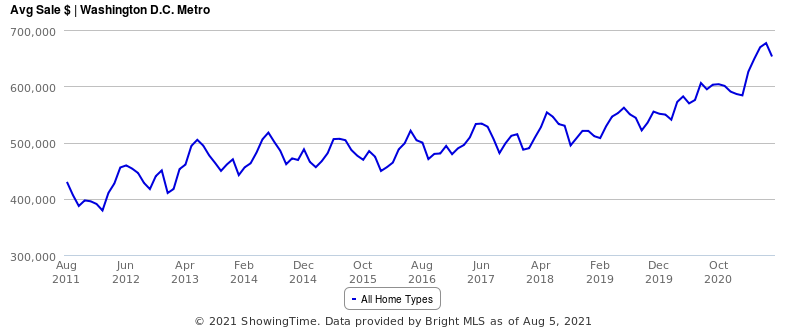 Coincidence that prices have doubled while rates have been low? Well, there is a lot to consider but when interest rates are low, it usually causes prices to appreciate. So you are probably thinking, so what? What does that mean for prices moving forward? Well, according the price expectations survey of over 100 of the top organizations and economists, experts predict home prices will continue to appreciate over the next few years not dropping below 3% annually for the next 5 years.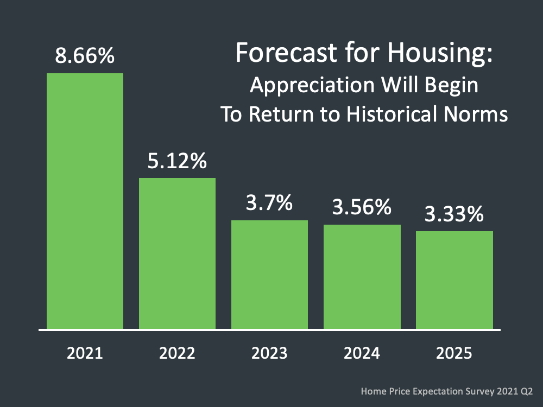 The bottom line is that no one can predict the market, but individuals and families still need safe affordable places to live. If you are a buyer, prices are high, but with the low rates it is still a good time to buy a home if you can hold on for the long terms. For sellers, if you are planning move out of the area, you will sell for a premium. Keep in mind that is you do hold on to a property and rent it, you have three years from when you move out to sell and get the capital gains exemption. If you have questions about that let me know.
But everyone's situation and goals are different and we want to serve you and the people you care about as your trusted advisors to help you make the best real estate and financial decisions. Life throws curve balls from babies, to job changes, to retirement, to college planning. We can help you craft a plan to use real estate to achieve your goals or adjust to curveballs. So if you have any questions about buying, selling, building, or investing anytime in the future, give us a call today. We are always here to help you and the people you care about. Until next month, stay well and God bless!