Hello! Welcome to our latest Market update video! As your trusted real estate advisors, our mission is to help you use real estate to achieve your long term personal and financial goals. We put these videos together to help you understand what's happening in real estate throughout the US and locally here in DC so you can stay ahead of the curve. We're starting to see some signs of cooling in the real estate market…we'll talk about that… but let's start with the headlines you are seeing throughout the US and then the DC market, and then I'll be back to put it all together.
First, housing inventory is still drastically low across the US. This quote from Realtor.com pretty much sums up what the market has been like throughout the US. "In this wild, wild west environment. buyers are doing anything they can to stand out. And more and more all cash offers do just that, and can be the difference between getting that dream home–or winding up empty handed again."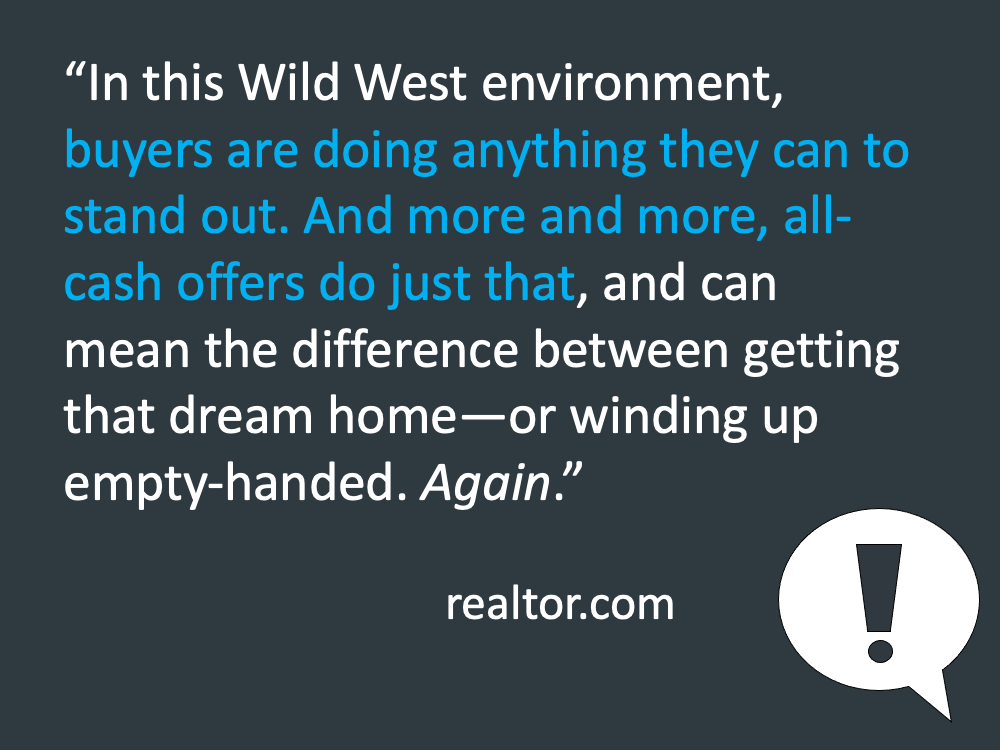 We are starting to see signs of cooling though. While it's too early to tell if this is a blip or a new trend, we are seeing the months of inventory starting to rise from a low of 1.9 months to 2.4 months. This is still well below where we need to be to have a balanced market though.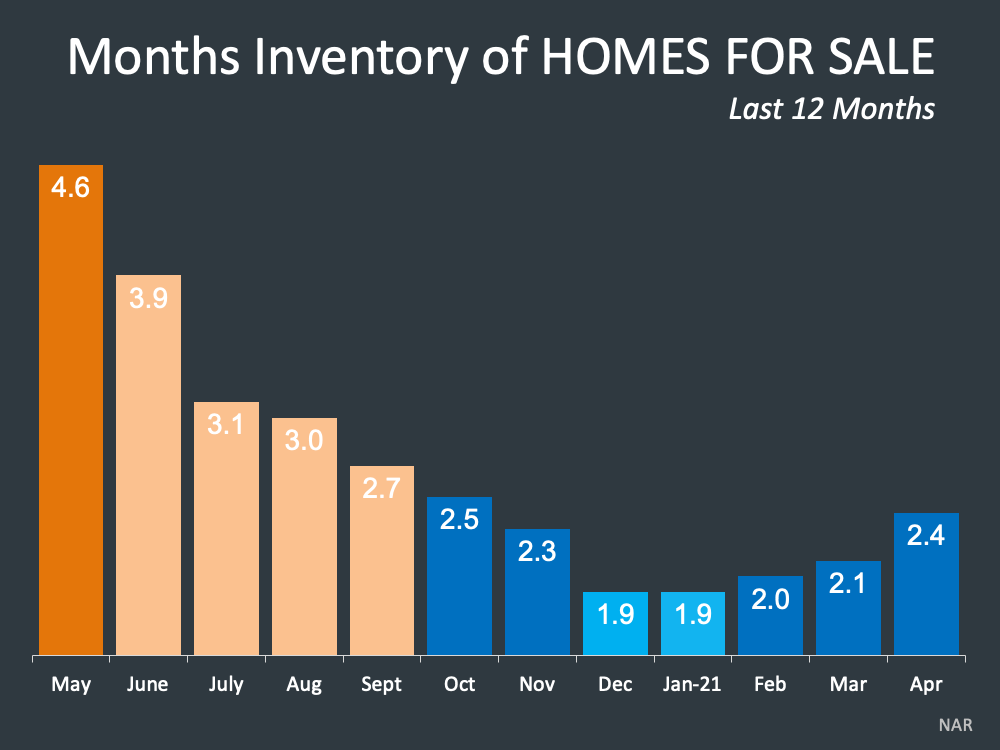 As long as this inventory stays low though, we are going to see prices go up and that is exactly what we have see recently. According to different sources, prices throughout the US have risen between 11.3% to 13.9% year oover year since last march.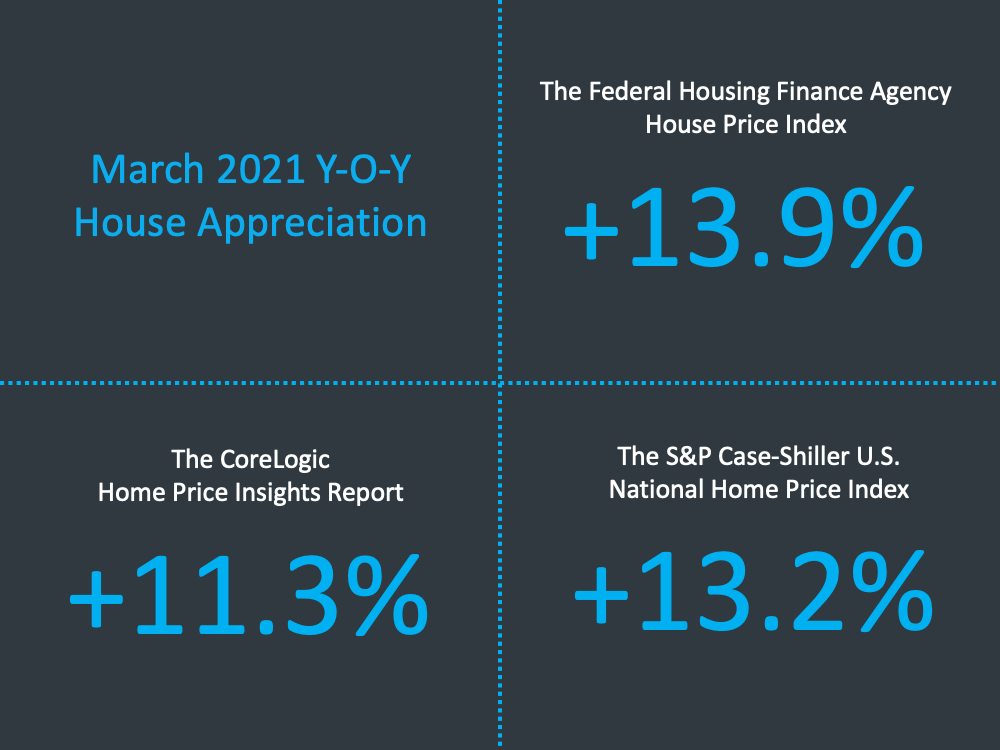 An this is happening throughout the US, not just in our area. On this map you can see price appreciation by region showing that the Midwest was actually up the most—bet you didn't see that coming…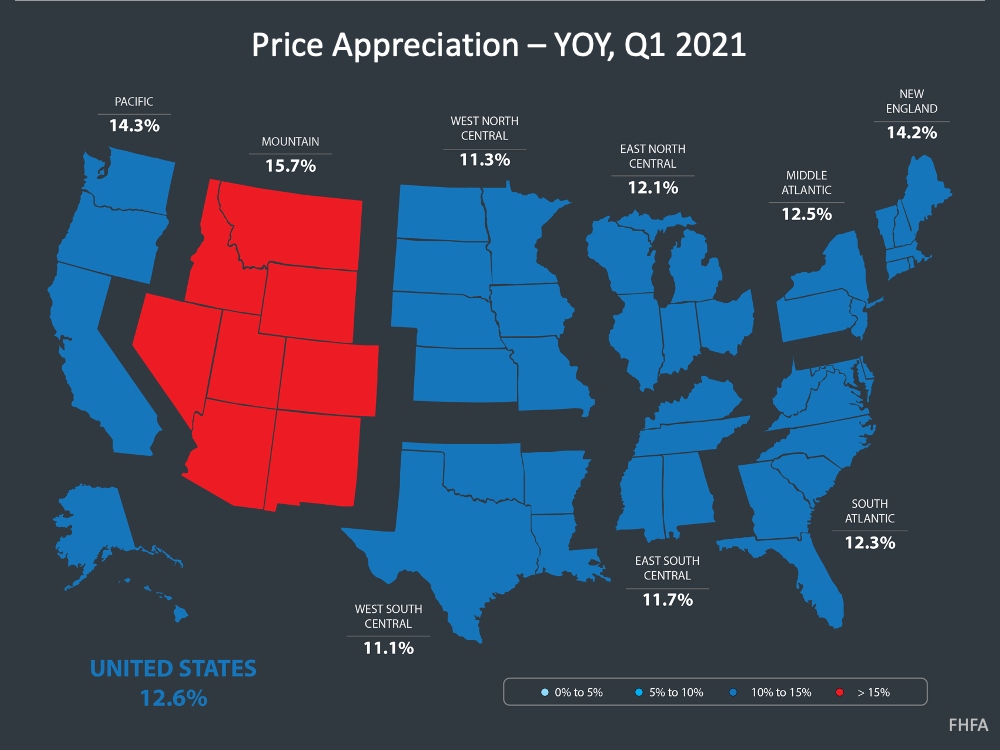 This all begs the question, when will it end? Well we think Bill McBride of Calculated Risk has it right… "If inventory increases slowly, house prices will continue to rise rapidly– if inventory increases sharply, house price growth will slow."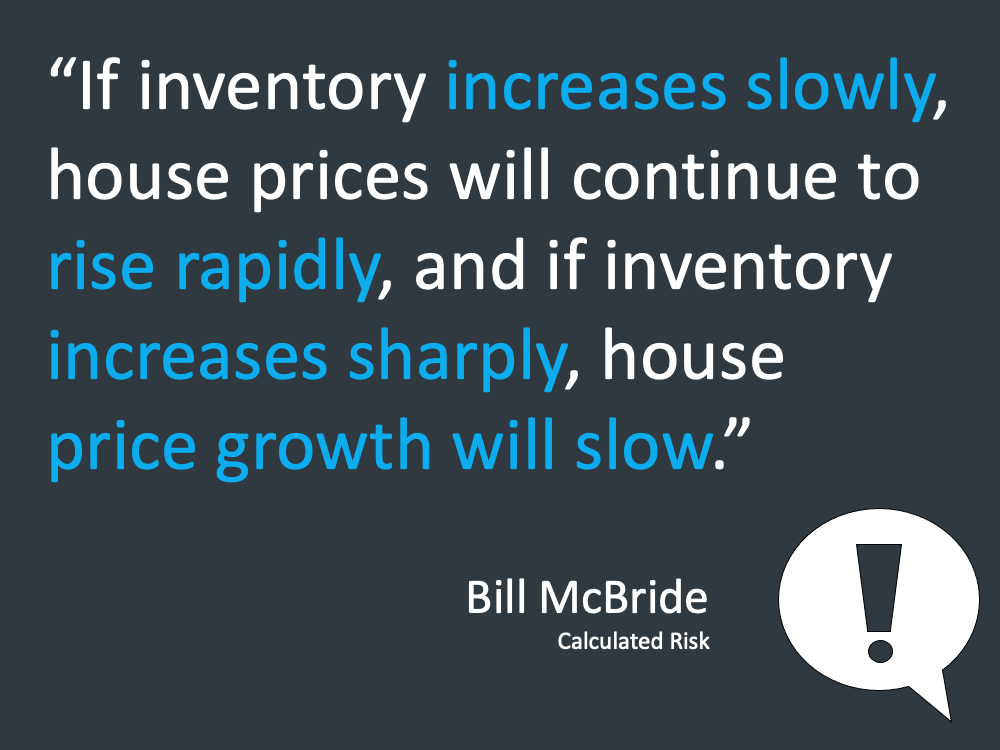 The pricing forecasts we are tracking are somewhere between 6-10% appreciation for 2021 with the average being 8.2%. We may have seen 5-8% already though this year in certain areas.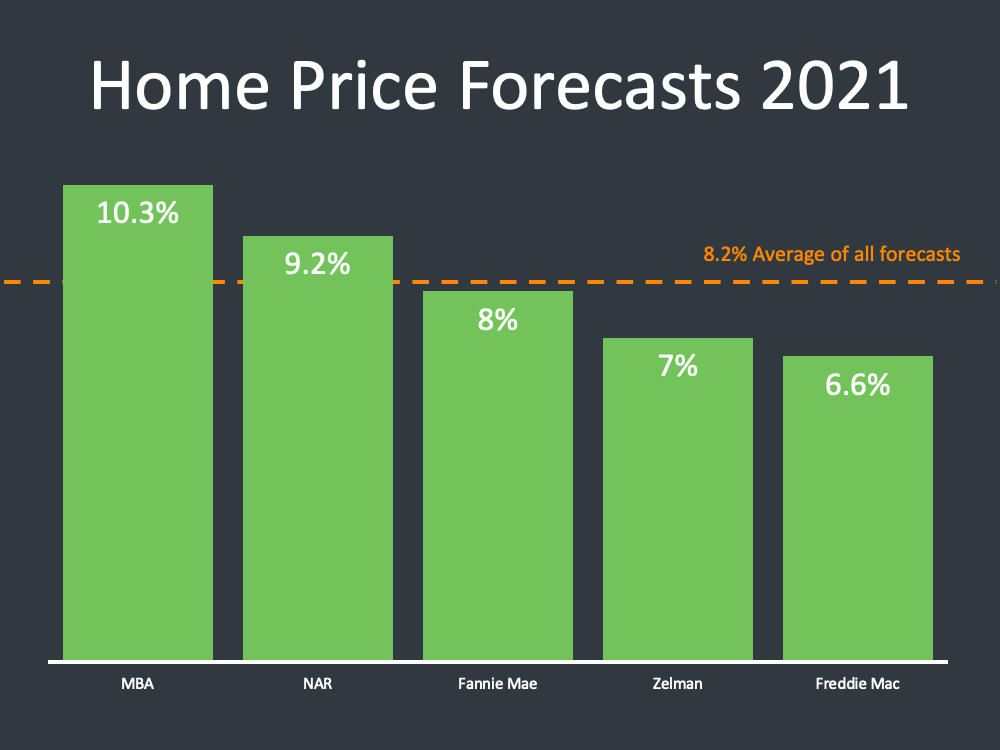 So that's what's happening throughout the US. Reagan, tell us what's happening locally.
Thanks TJ! Locally, there are some similar trends overall but you have to break out condos from single families and townhouses. The condo market remains cool with active listings still well above the 5 year average.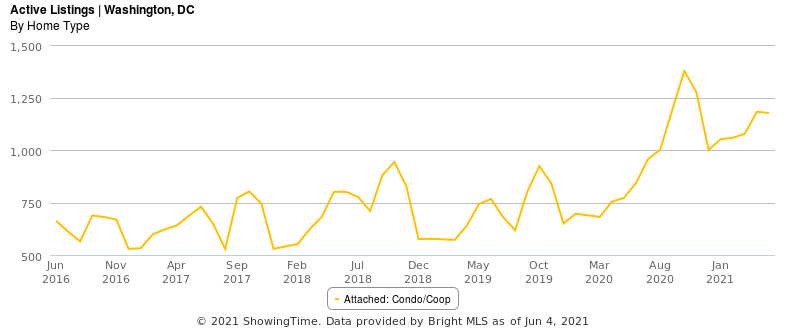 Single Family homes by comparison are well below the 5 year average: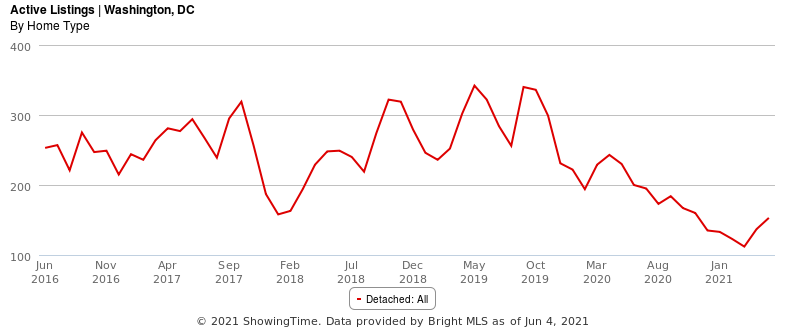 This low inventory has caused prices to rise significantly due to demand.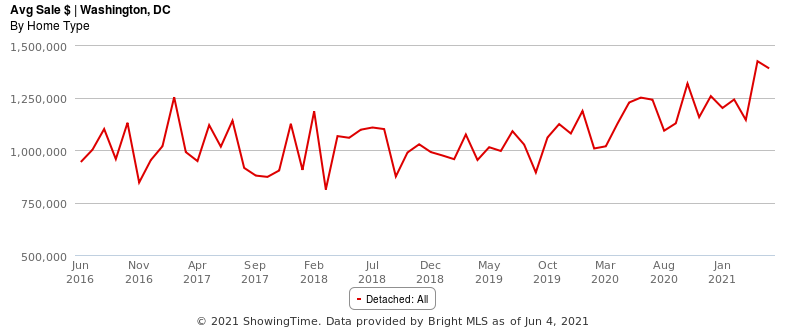 The challenge is that we are not seeing enough new listings of townhouses or single family homes to cause that cooling of the market like McBride was saying.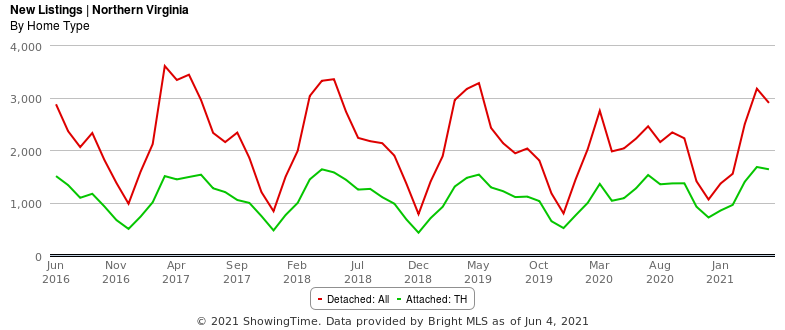 January through April we were one an upward trend and hoping we might break through with a lot of new inventory this summer, but May went back down causing the sellers market to continue. As you can see, we are now back on a somewhat normal annual trend for new listings, but we need that inventory to jump up higher to meet the buyer demand and cause the market to normalize.
As a result of the low inventory, we continue to see multiple offers on most single family home listings with selling prices rising to an average of 104% of the asking price.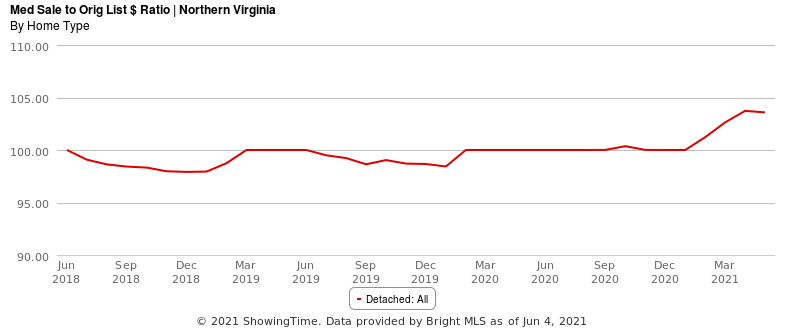 Thank you Reagan. So in summary the market is still strong, inventory remains low and firmly in a sellers market.
Now I've been in real estate for almost 20 years and went through the great recession, so I get nervous when I see prices going up so quickly–you have to ask the bubble question—it's natural to be concerned. And I don't want to go on feeling, so I look to the professionals of the big financial firms who have hundreds of analysts and here is what they are saying. (pause) First from Morgan Stanley,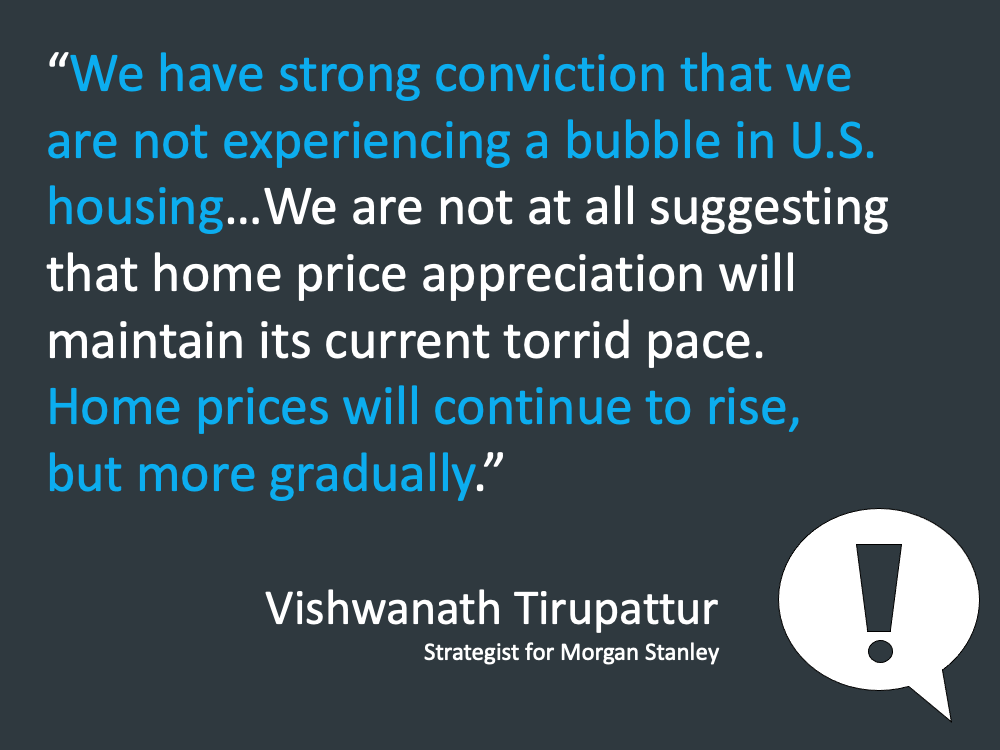 "We have strong conviction that we're not experiencing a bubble in U.S. housing. We're not suggesting that home price appreciation will maintain its current torrid pace. Home prices will continue to rise but more gradually."
From JP Morgan,
"Home buyers–Interest rates are still historically low though they are inching up. Housing prices have spiked during the last six to nine months, but we don't expect them to fall soon, and we believe they are more likely to keep rising. If you're looking to purchase a new home, conditions may be better than twelve months hence. Those who remember the housing bubble of 2006 and 2007 may be nervous watching U.S. housing prices soar. But the previous bubble was fueled by speculative buying, which we do not think is the case today."
And from Goldman Sachs,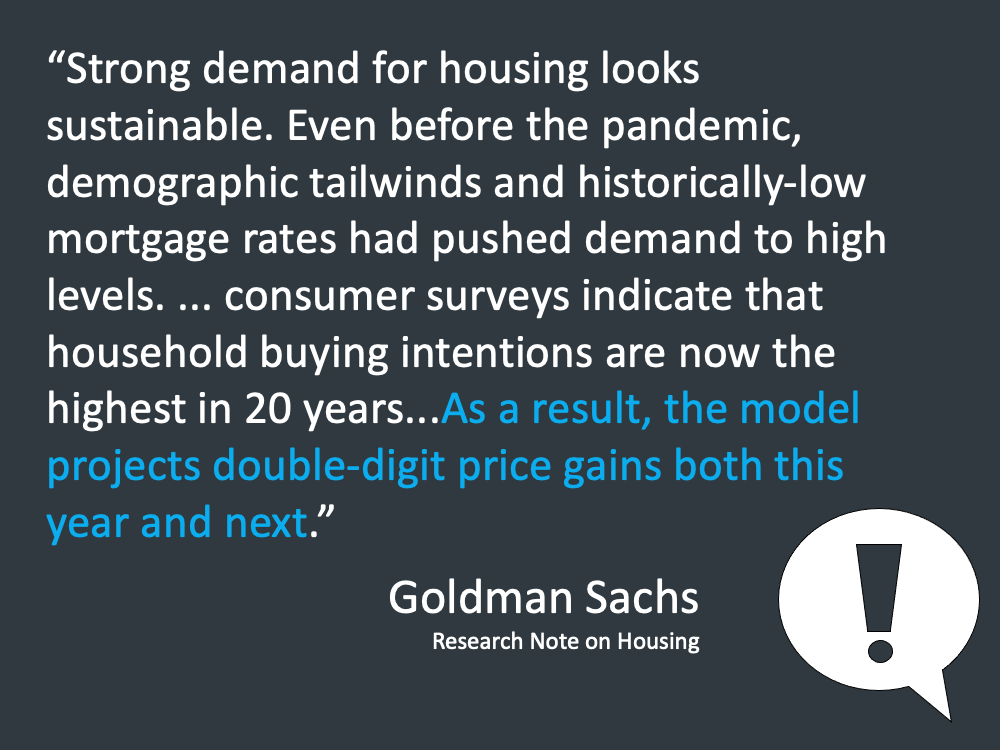 "Strong demand for housing looks sustainable. Even before the pandemic, demographic tailwinds and historically low mortgage rates had pushed demand to high levels. Consumer surveys indicate that household buying intentions are now the highest in twenty years. As a result, the model projects double digit price gains both this year and next."
Ok, so it doesn't seem to be a bubble, but with these prices are homes even affordable? This is an important question that I want our buyers to understand. (pause) Mark Fleming from First American said this…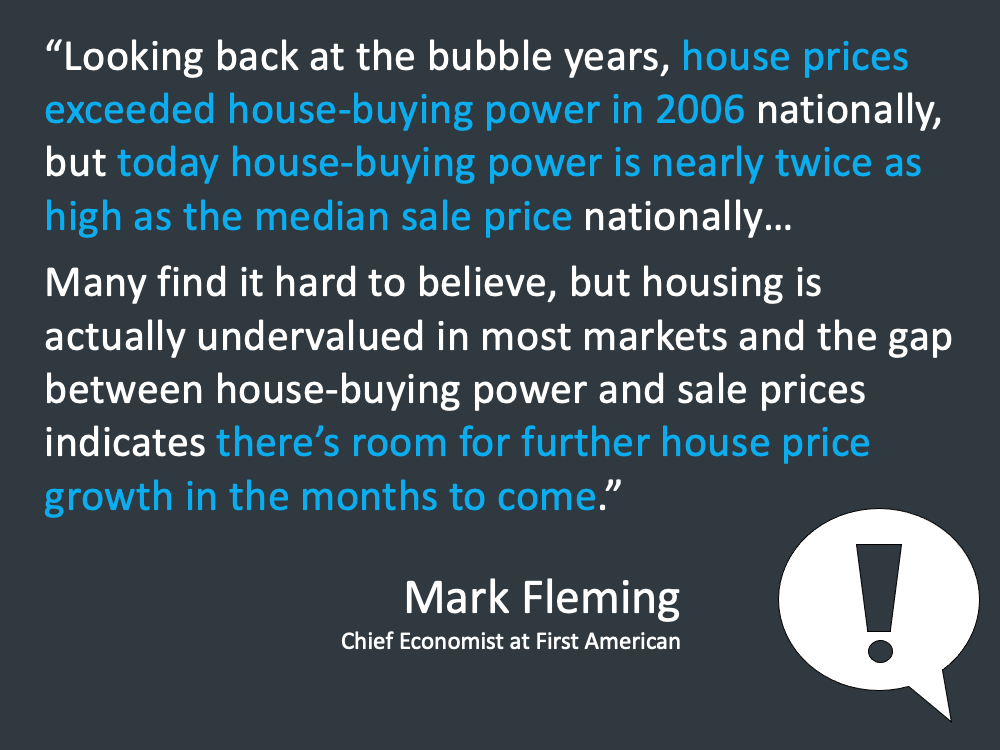 "Looking back at the bubble years, house prices exceeded house buying power in 2006 nationally, but today, house buying power is nearly twice as high as the median sales price nationally." He goes on to say, "Many find it hard to believe, but housing is actually undervalued in most markets. And the gap between house buying power and sales prices indicates there's room for further house price growth in the months to come."(pause) So he's saying there's actually room for homes to go up in price and housing may be undervalued. Not something we're hearing a lot out there. But when you start to look at the numbers, the picture becomes more clear. Take a look at the housing affordability index – that's produced by NAR – you can see where we stand today.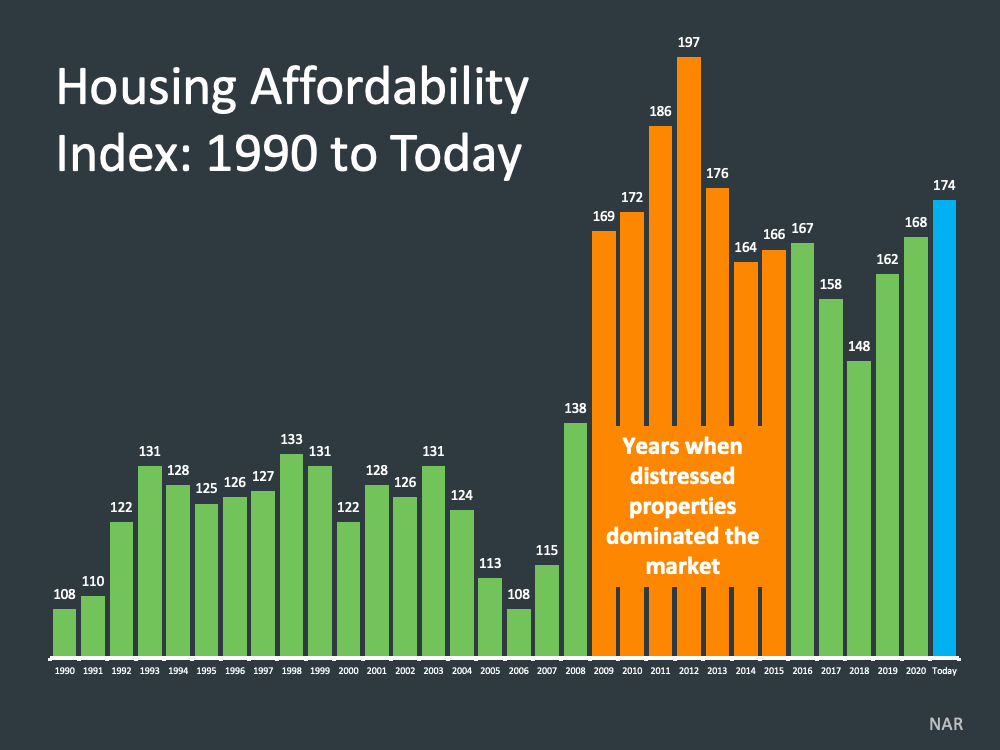 Now, the higher the index is the more affordable a home is. As you can see, throughout the US we stand in a very, very good position. That middle orange area were the years when distressed properties dominated the market after the housing crash. But we are still in a very good position.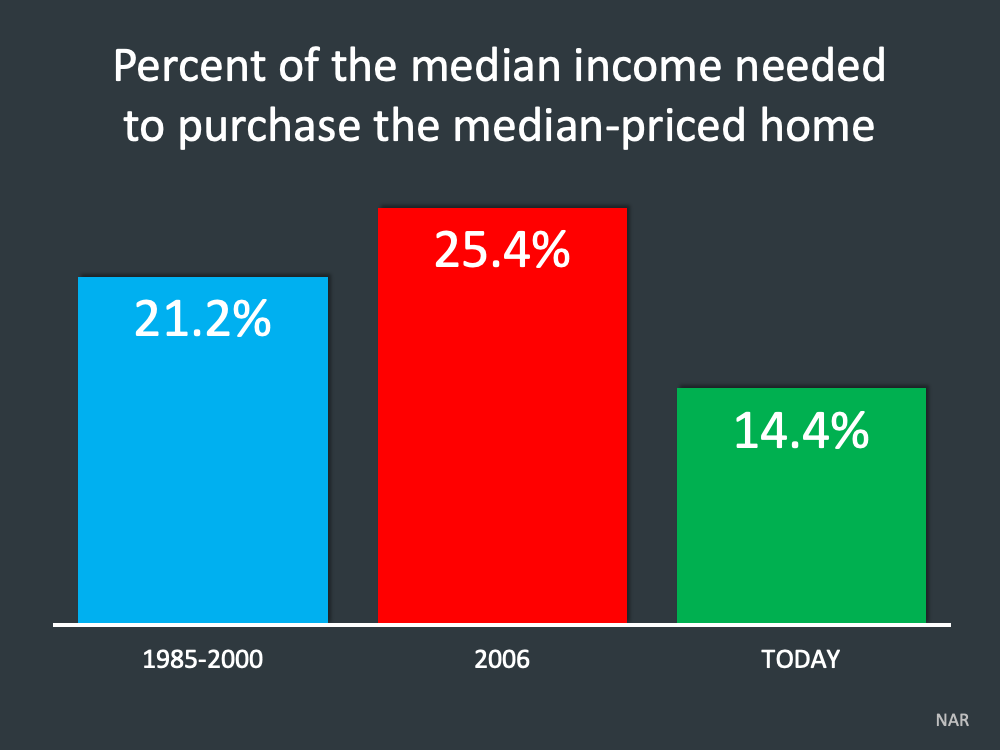 If you want to look at that visually, the percentage of median income needed to purchase a median price home historically is about 21.2%. Back in the housing crash that rose to about 25.4%. And today we sit at 14.4% on average. Now these are numbers for the US and we are obviously in a much more expensive area. This is why we aren't seeing our prices rise as high as the mid-west percentage-wise, because we are already starting much higher.
The reality is that buying a home is a good investment if you plan to be in one place for a while because you need to have a place to live and, renting can be even more expensive. (pause) Michael Laughlin said this: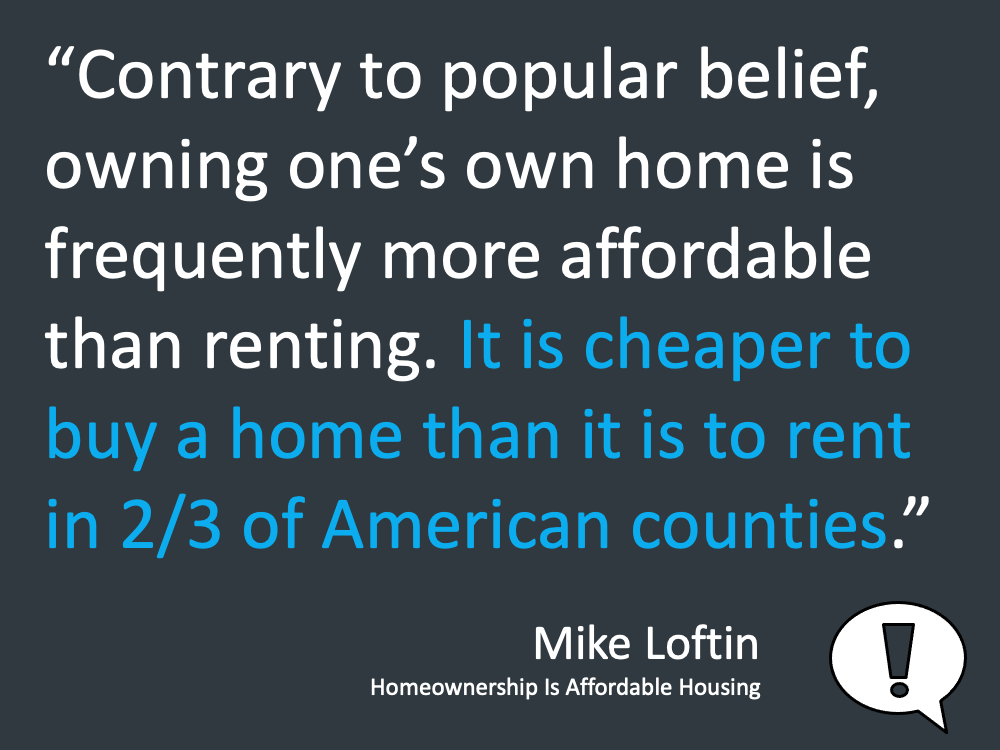 "Contrary to popular belief, owning one's home is frequently more affordable than renting. It is cheaper to buy a home than it is to rent in two out of three of American counties."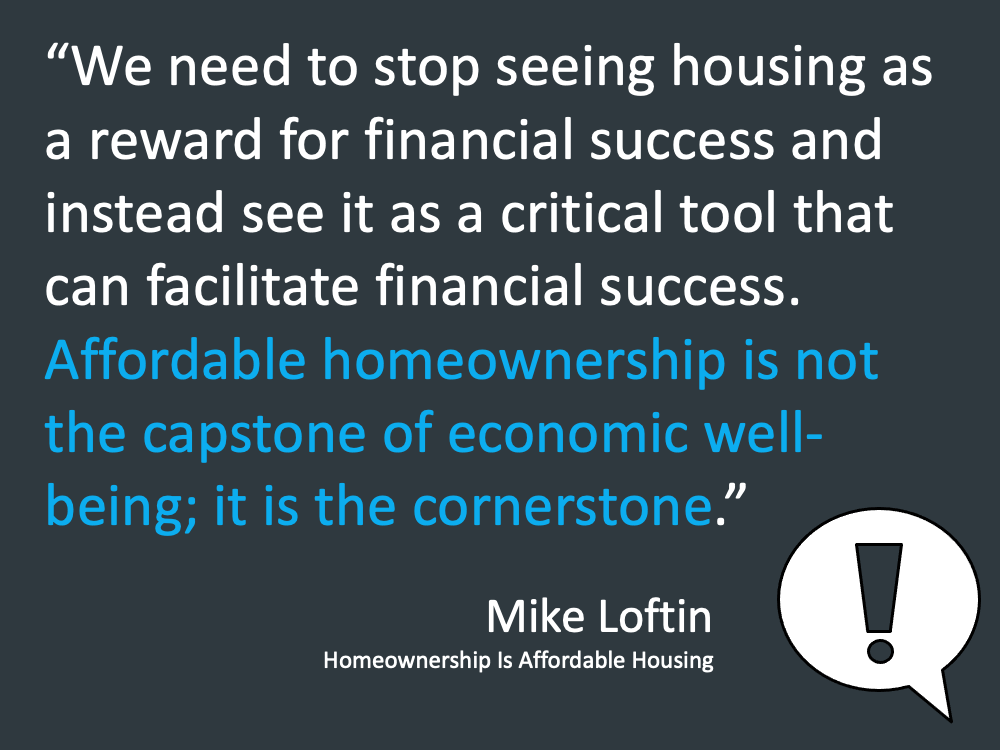 He then went on to say this; which I strongly believe as well "We need to stop seeing housing as a reward for financial success and instead see it as a critical tool that can facilitate financial success. Affordable home ownership is not the capstone of economic wellbeing. It is the cornerstone."
And I can attest to that. We have hundreds of clients that are building wealth through their homes using equity in their homes to start a business, to send a child to college, or fund their retirement. I have always maintained that while home prices are expensive here, if you can pay off a home in the DC area, you can move almost anywhere in retirement and use that equity to live well. Your home should not be your only investment but across the board we see these wealth managers saying that your primary home, and certain rental investments can be great ways to diversify. And most Americans still hold this belief as well, as you can see here in a Gallup poll showing that 41% of those surveyed chose real estate as the best long-term investments.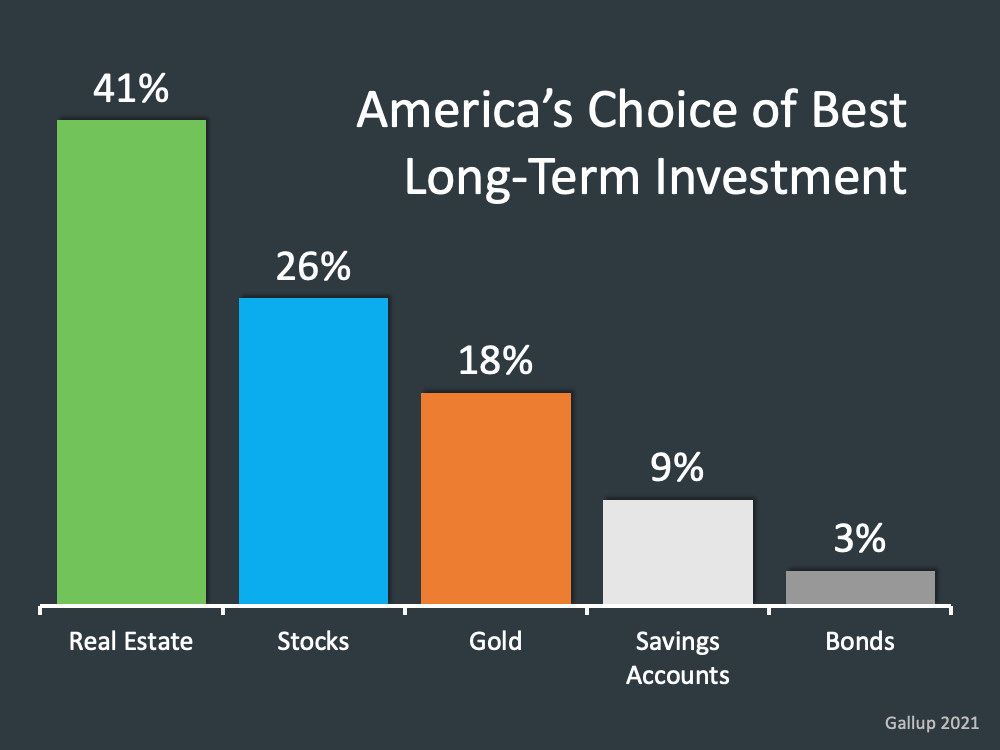 You know, one of the reasons we love our job is because we get to help people both personally and financially. Owning a home can certainly help build wealth, but your home is also very personal. Owning a home provides individuals and families a safe place to plant their roots and make memories. We know that people who own a home are more invested in their communities and that is important to us. Helping our clients evaluate their real estate decisions is what we love to do, so if you ever considering buying or selling a home or need any advice related to real estate, please give us a call and we would be happy to help you. We can set up a no obligation consultation to discuss your needs and create a strategy for your future. Also, if you know anyone else that you care about looking to buy or sell a home, please know that we are never too busy to take care of the people that you care about.
Well, that's it for this month. Please like the video or subscribe to our channel to be notified of future market updates, or sign up for our newsletter to have them delivered right to your inbox each month. We hope you have an amazing June and we'll see you next month.