December Market Update

Merry Christmas and Happy Holidays everyone! It's hard to believe that 2020 is almost over! I think we are going to make it! It has been a challenging year for so many—especially those with kids who have been working. If that is you, I just want to applaud you. You will never receive all the appreciation you deserve but I know it wasn't easy, and I would just like to say thank you on behalf of your children who won't realize how hard it was for another 30 years. Know that you did a good thing.
We have had an exceptionally busy year in real estate as we have helped many people who realized they needed more or different space because of the pandemic. Let's take a look at the numbers so you can understand what the market is doing.

What's Going On With Mortgage Rates?
One of the biggest stories, though not always highlighted, were the record low mortgage rates this year which fueled the demand for housing. When mortgage rates are lower, monthly payments are lower.
Look at this example.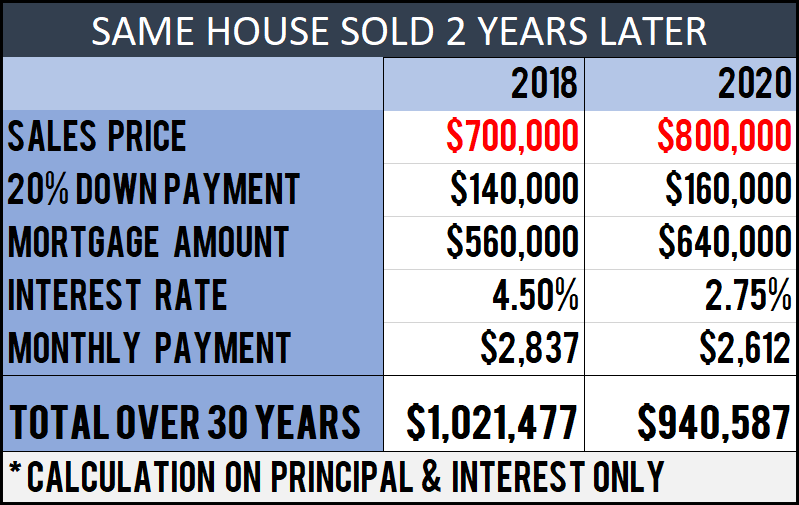 This is a home that was sold in 2018 for $700,000. It sold this year for $800,000. That's a $100,000 gain in two years! When these folks bought the house in 2018, the interest rate was 4.5%. This year the purchaser got a 2.75% interest rate. Notice this: even though the buyer in 2020 paid $100K more for the house, their monthly payment was over $200/month lower than the buyer in 2018 because of the lower interest rate. ALSO, and here's the big one: The 2020 buyer will pay $940,000 in total payments, which is about $80,000 less than the buyer from 2018 in a 30-year mortgage. So, the person from 2018 who bought the house for less is going to pay $80,000 more for that home over 30 years than the person who bought for a higher price. It may seem counter intuitive, but that is the power of the interest
rates and helps explain why buyers are rushing out to buy homes.
Market experts, like Freddie Mac, suggest that the real estate market is helping the economy recover from the fallout of the pandemic. The federal government knows this, which is why they are doing everything they can to keep the interest rates low until the economy normalizes. When it does normalize, though, you can expect those interest rates to go right back up. And what this chart shows, is that if the interest rates go up, and prices stay the same, buyers will pay a lot more. Even if prices come down a little, you will likely still be in a better position in the long term if you have locked in that lower rate at a higher sales price.
If this is confusing to you, know that you are not alone. The bottom line is, just call us if you are thinking about buying, we'll evaluate your situation and help you determine if you should buy a new home or
an investment property at this time.

Market Statistics
This year we have watched the DC metro real estate market divide into two markets: detached single-family homes and townhomes, and condos. The name of the game is more space. Single-family detached homes and townhomes are in high demand and there are not enough listings for the buyers. Conversely, there are more condos for sale than there are buyers because no one is rushing to buy small spaces. Look­ at this chart which shows the number of active listings by home type over the past 5 years:

A Broad View of the DC Metro Area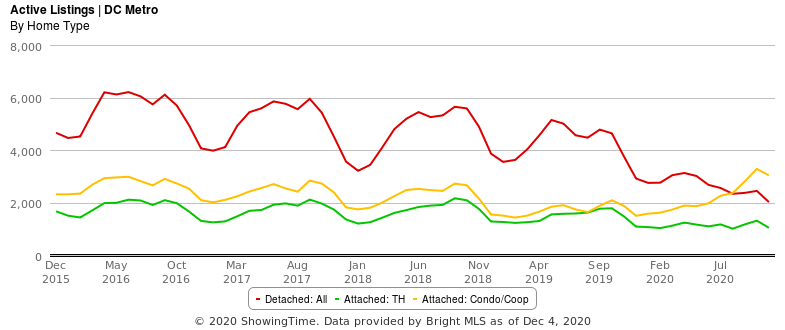 The number of detached homes is still declining (the red line), but there are more and more condos available (the yellow line).
Illustrated a different way, look at this chart that shows the change in the number of listings per month over the past 5 years to 2020.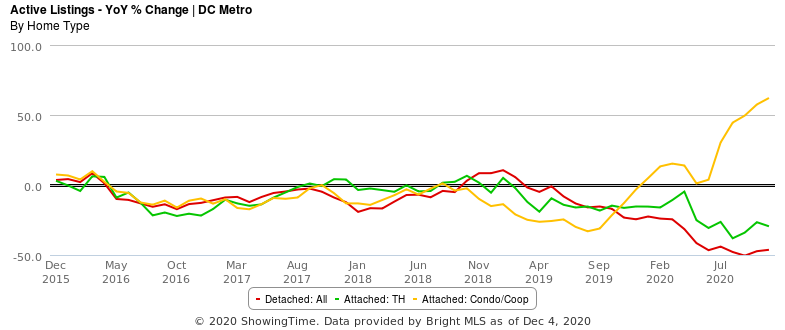 Look at the decrease in active listings for detached homes and townhouses and the huge spike in condos. This leads us to believe that we will see a decrease in prices for condos in the next 6 months. I do believe we will see that recovery after a year or two, but the financial pressure will be heavy on condo owners who have historically rented and are having trouble finding renters. If you are looking to buy a condo in the city, I think the next 12 months will present some attractive options.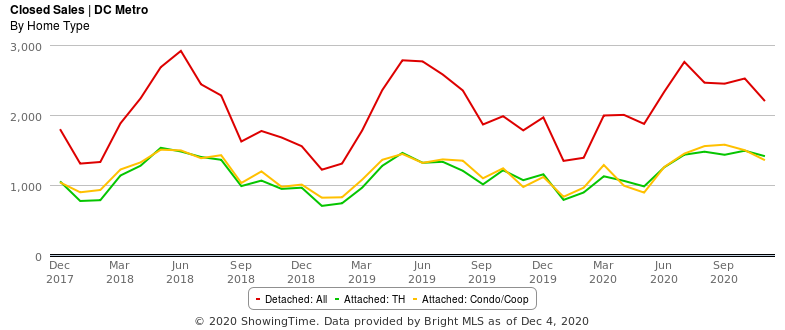 The actual number of homes selling continues to be strong, which is great. Interestingly the number of sales usually slows down around the end of the year, but not this year. You can see in this year over year change chart that the number of closed sales was way down in the spring and they now is much higher. I believe for the year we will see more homes selling then the past few years.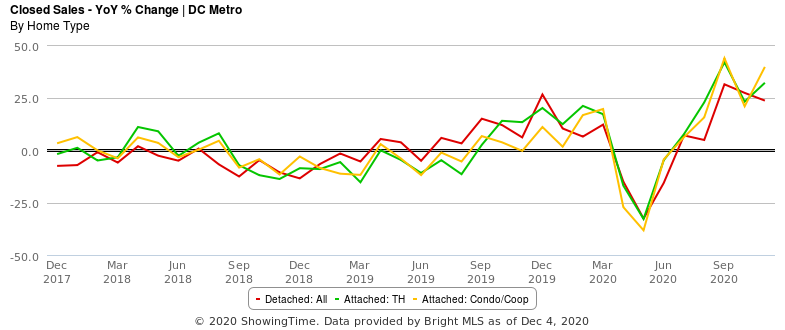 We also see that the average sale price for detached homes and townhouses has increased this year, which is quite a pop since February, while condo sale prices have remained steady.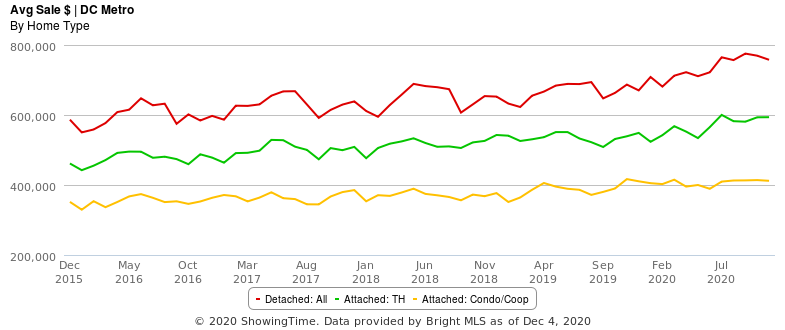 That's an overview of the market, but what does this mean for YOU?

If you are a first-time home buyer or looking for an investment property, a condo may be a great option for you. If you are looking to upgrade, be prepared for a competitive market. It makes sense to talk to a lender early to make sure you are fully pre-qualified and you are the most attractive to sellers when you find a home you like. Let us know if that is you and we can connect you with a great lender.
If you are considering selling your home – now is still a GREAT time. Houses are literally selling within days, some going Under Contract within 24 hours, and for thousands over the asking price.
If you already own and home and you do not plan to move for a while, it might be worth the time to run the numbers on a refinance. Just be aware that lenders are swamped with request right now so it can sometimes take six months. You might want to lock in the rate now.
Now we come to why this all matters to you. These trends are important to understand. The markets are separate, but still somewhat interdependent and reflect what is going on overall in our economy. We firmly believe that a wise decision is an informed decision. Our team's entire mission is to help our clients achieve their long-term financial goals through real estate. We believe that through a thorough understanding of the market and your circumstances we can help you net the most money for your home or get you the lowest possible price as a buyer, while protecting your interests and making the process as easy as possible. If that sounds like something that interests you, reach out. We can help you do that. Call us directly at 202-800-0800 or e-mail us at info@piersonrealestate.com.
Thank you for watching. Merry Christmas, Happy Holidays, and Happy New Year! See you in 2021!