If you asked the question, "Should I renovate before I sell my home", 10 years ago, you might have heard a different answer.
However, in the Northern Virginia and DC Metro area, there has been a maturing sellers' market for the past several years. Year-over-year, there are fewer sellers in the market than buyers, with pent-up demand that has kept the market strong even in the midst of a global pandemic.
The reality is…you may NOT need to do any renovating to your home before selling in Greater DC area. You'll likely have a flock of potential buyers stalking your home as soon as it goes on the market, and they are so starved for homes that they will gobble up your home, flaws and all.
Take a look at the infographic below: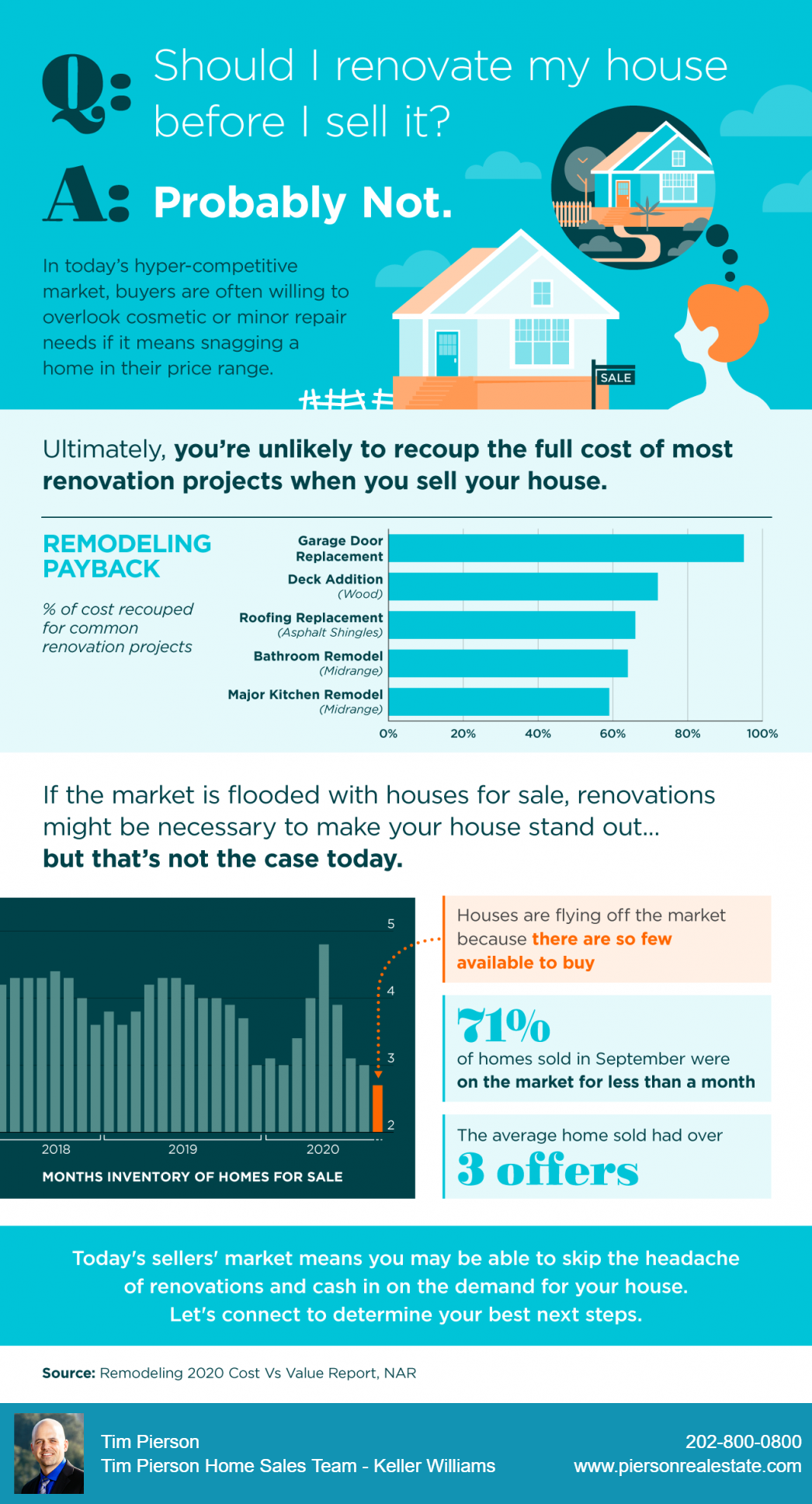 As shown above, you are unlikely to get back what you invest in remodeling your home. I will caveat that, though, with a few thoughts:
The condo market is currently showing some softening in the DC Metro area. There are still lots of buyers, but it is not quite the frenzy it used to be. Depending on other factors (size, location, features, etc.), you may benefit from some inexpensive updates to get premium offers. We can help you determine what, if any, remodeling you may want to consider.

While you may not need to spend a lot of money on updating or remodeling your home, the homes that get the best offers are clean and in good repair. In some cases, a repair may be required before a lender will secure financing.

In general, buyers want to make their own interior design choices, so you are less likely to recoup your investment on luxury flooring or countertops, etc. However, one thing that is in HIGH demand in single-family homes is dedicated office space. If you have any space that could be featured as an office, with minimum investment, it could work to your advantage with buyers.
See Also:
November Market Update
Why Home Office Space is More Desirable than Ever
If you are thinking about selling, we can help you determine where you can make strategic investments to attract the highest offers, or we can develop a strategy for selling your home as-is. The last thing you want to do is spend a lot of money you can't recoup when you sell. If we can be of service to you, please don't hesitate to give us a call at 202-800-0800, or e-mail us at info@piersonrealestate.com.
Tags: Tim Pierson, Northern Virginia, DC Metro, Home Buying, Home Selling, Home Updates, Home Maintenance, Remodeling, Real Estate