As Realtors, we must keep our eye on the home features that are most in demand by home buyers. Typically, the most in-demand features are upgraded kitchens and baths, master suites, flooring, etc. However, in light of the recent pandemic and the prevalence of employees working from home, there is a new demand from today's home buyers: home offices.

George Ratiu, Senior Economist with realtor.com, noted in a recent article how popular listings with home offices are:
"As more companies have been embracing remote work, buyers are driving demand for houses with home offices higher. Homes featuring the term 'office' are selling 9 days faster than the overall housing inventory."
A recent survey by staffing company Robert Half has shown that 79% of workers prefer to have the option to work from home more frequently, even after the pandemic risks have abated. Work-from-home arrangements have been on the rise since 2004, but have exploded in recent years, for many reasons not entirely related to the COVID-19 pandemic (see graph below). However, according to the survey by Robert Half, more and more employees are now realizing the benefits of working from home, and feel more comfortable navigating the technology – and of course, companies are realizing the cost savings associated with smaller real estate footprints and other financial benefits. Where there may have been resistance to change in the past, the "new normal" may be the impetus needed to push the US into a new thinking about the workplace.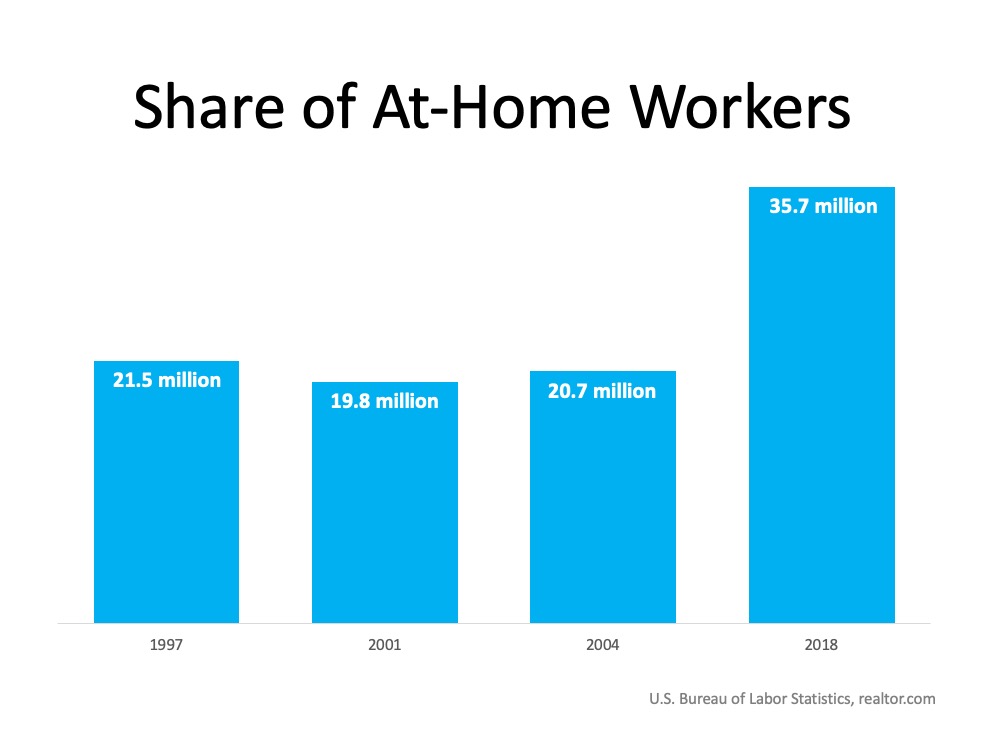 Searches for telecommuting on Think Google hit an all-time high last month, which is certainly an expected development given stay-at-home orders and the incredibly high unemployment caused by the shutdown of many "non-essential" businesses.
Many employees who have moved their jobs from the office to home in recent months have been actively searching for advice on on how to be most productive, which includes a dedicated work space. According to Chris Anderson, Senior Account Executive at HousingWire and a seasoned work-from-home executive, having a dedicated space is a MUST for productivity.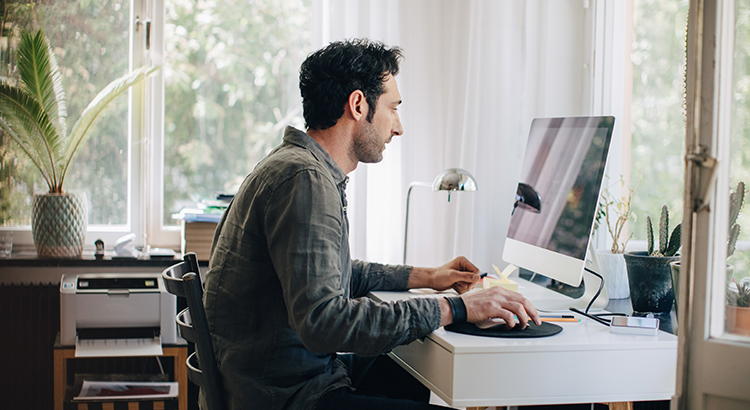 If you are planning to sell your home in the coming months, and you have space within your home that could be easily and economically outfitted with home office features, it may be worthwhile to explore the possibility with your Realtor. Think about what someone working from home may value – lots of natural light, built-in bookshelves, or a quiet location away from the daily activity of the home could all be features well worth highlighting when you list your home, and will attract the attention of many buyers.
Ratiu concludes:
"For housing, the continued increase in the share of remote workers implies that demand for homes with offices or dedicated work spaces will continue to increase. The current coronavirus pandemic offers a dramatic indication of the fact that companies and employees will have to develop plans and clearer policies for remote work beyond the current crisis."

Bottom Line
The current crisis may very well be a turning point for US businesses, as it is forcing them to figure out how to operate successfully in a remote environment. Once the crisis is over, the popularity of work-from-home arrangements with valued employees mean that what may have been a rare perk in the past will become more of the norm in the future. Being on the leading edge of this trend, with a dedicated home office space, could make your home extremely valuable to buyers.
We are here to help! We can help you determine what updates make the most sense for your home prior to sale, based on cost and comparable homes in your area. If you or someone you know is thinking of buying or selling a home in 2020, please do not hesitate to contact us at info@piersonrealestate.com or phone us at 202.800.0800.