The last quarter of the calendar year provides us with a wealth of opportunity to let our internal designers loose, with the holiday trifecta of Halloween, Thanksgiving, and Christmas (or Hanukkah or Kwanza). But while the adult in you may opt for the elegant and sophisticated with Thanksgiving and Christmas, Halloween is made for your inner child!
Now that you are an adult, and maybe have kids of your own, Halloween has likely been relegated to buying a bag of candy and constructing a couple of homemade costumes. But it can be so much more! You have an opportunity to have a lot of fun while scaring the stuffing out of the neighborhood kids. You'll be the hit of the block, and kids will flock to your door just to see your creative and spooky decorations. And the best part? They can be done inexpensively with items you may already have around your home!
Here are just a few ideas to get you started. If you try any of these, send us pictures! We'd love to see how your projects turn out!
Milk Jug Ghosts
Empty plastic milk or juice jugs, a sharpie, and glow sticks are all you need for this spooky addition to your walkway or yard!
Paper Bag Door Monster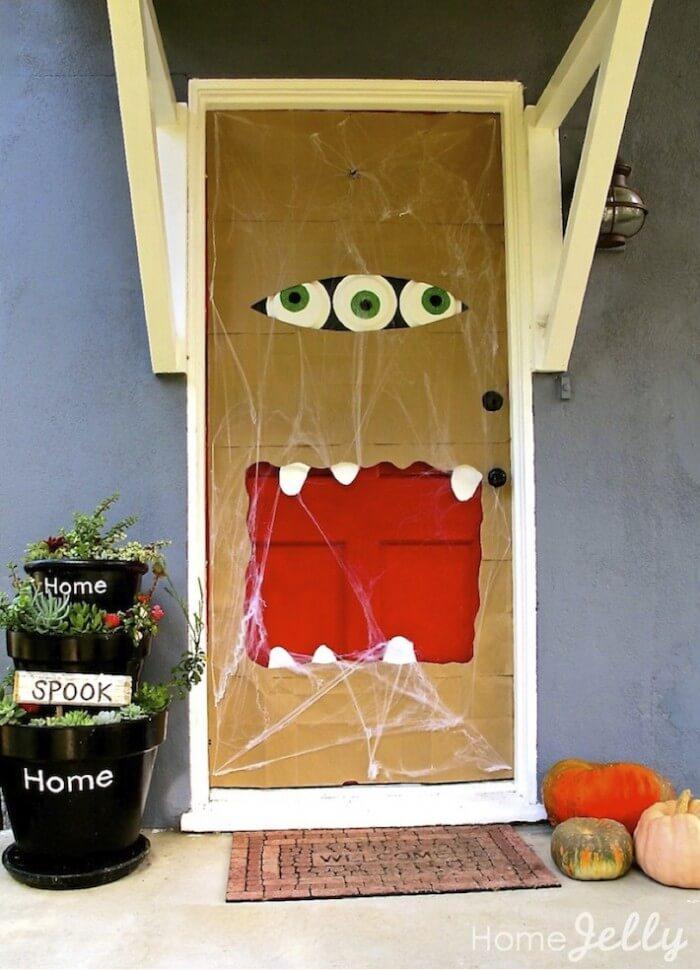 Using brown paper bags, tape, paper plates, and faux spider webbing, you can turn your door into a hungry monster, waiting to nab trick-or-treaters. You can even put a mirror in the open mouth, so that trick-or treaters see themselves in the monster's mouth as they approach the door! What fun!
Find the instructions for creating the Paper Bag Door Monster here.
Spooky Eyes
There is something hiding in those bushes over there! Nope, just these easy spooky eyes, which you can hide around your yard, in trees and bushes. All you need is empty toilet paper and/or paper towel tubes, an Exacto knife, and glow sticks. Creepy!
Here is a short video on how to make them:

Cheesecloth Ghosts
Martha Stewart comes clean as a Halloween aficionado in this video, which covers several different crafts you make to spookify your home. The Cheesecloth Ghosts require aluminum foil, cheesecloth, and corn starch. Hang them in trees around your yard as sentries over your ghoulish abode!

Floating Candles
What could be spookier than candles that appear to be floating in mid-air! This nifty craft uses empty paper towel tubes, hot glue, white paint, fishing line, and battery operated candle flames (usually sold with Halloween supplies). Watch the video below for how to make them.

More ideas!
Here is another video with several ideas straight from HGTV. Some ideas involve items you can purchase at a dollar store, if you don't have the supplies on hand, so you can still keep your decorations on the cheap.

If you try these ideas, you may never want to leave your yard on Halloween night, so you can soak up the giggles of delight from little ghouls and goblins, and bask in the envy of your neighbors. Enjoy and have a safe Halloween! Happy Trick or Treating!
When it comes to buying or selling your home, we are here to help answer any questions and guide you through a better understanding. Please do not hesitate to contact us at info@piersonrealestate.com or phone us at 202.800.0800.
Tags: Tim Pierson, Northern Virginia, Halloween Decorating, Trick or Treat