Here in the Northern Virginia market, condos are an important part of the urban real estate options. However, for home buyers, there is some confusion about how buying a condo is different from buying a single-family home.
What is a Condo?
Before we dive into the ins and outs of buying a condo, it's important to define what a condo is. In a lot of ways, a condo is similar to an apartment. A condo is usually a part (called a unit) of a large residential building that houses numerous units. What makes a condo different from an apartment is ownership. With a condo, each unit is owned by individual owners.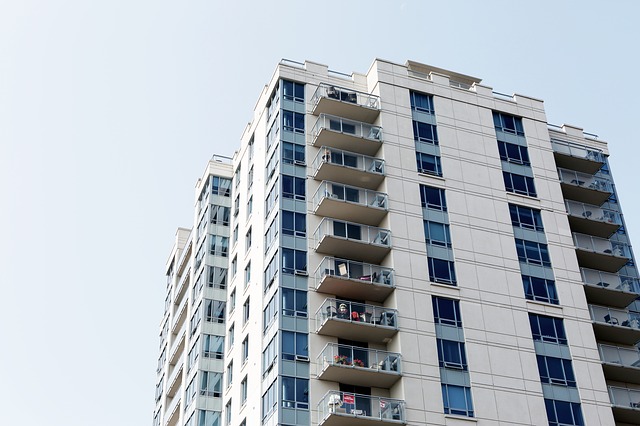 Common areas and amenities such as community pools, exercise facilities, mowing and snow removal services, etc., are all managed by the Condo Association. Since condo owners actually own their unit, they have much more autonomy over making updates within the condo than an apartment renter has. The Condo Association sets rules for residents, with input from owners, that are meant to maintain the value and standard of living of the complex.
With an apartment, there is an owner of the complex, usually an individual or investment/management company, that makes the rules and is responsible for maintaining the grounds and the units. Renters may be able to paint or make minor cosmetic changes within the apartment, but things like kitchen appliances, cabinets, counters, and bathroom fixtures are all governed by the owner of the property.
It is important to note that owners of condos within a complex may choose to rent out their units (if the Association rules allow it), which clouds the issue a bit. However, the key distinction is that each unit is individually owned, rather than there being one owner of the whole complex.
Who Buys Condos?
In a metro area like DC, condos appeal to a wide swath of buyers, for a number of reasons. They tend to attract first-time buyers, because condos are often less expensive than single-family homes, and smaller condos are perfect for single buyers or couples. Younger buyers also like to be within walking distance of shops, restaurants, nightlife and public transportation. However, condos also appeal to older buyers, who may be downsizing from single family homes, because condo-ownership eliminates lawn maintenance and shoveling sidewalks, and eliminates a lot of the headaches of home ownership. Many choose condos simply for ideal locations.
Advantages of Condos
There are advantages and disadvantages to buying condos, so it's important to understand what you gain and trade off if you think a condo is for you:
Amenities: Unless you own a sprawling estate, it might be difficult to have pools, tennis courts, playgrounds, and walking trails on your property. Owning a condo gives you access to all the amenities offered with the condo complex, without having to pay for maintenance.

Accessibility: Multi-story homes and townhouses may be difficult for people with disabilities or the elderly to navigate, because of the stairs. So condos are a perfect option for anyone who needs single-level living.

Investment: Buying a condo allows owners to build equity, just as they would with a house in the suburbs. And in the DC area, condo owners are especially likely to experience value growth, due to the extended seller's market. This makes it a good option for first-time buyers who may not be able to afford a single-family home, but still want to avoid rent and build equity.

Walkability: As previously mentioned, many condo buyers like being near the action of urban areas – which include restaurants, nightlife, shopping, and cultural attractions. Urban areas require more density than sprawling suburban areas, so multi-family complexes are the most available and affordable option in urban areas.
Disadvantages of Condos
The advantages of condos make them appealing to a wide variety of potential buyers. However, there are certain disadvantages you need to consider before making a purchase.
Cost: Because of population shifts in key markets, city planning in major metro areas, and the popularity of condos in certain demographics, the national average price for condos have been rising steadily – faster than the average values on single family homes in some areas. While this generally makes condos a good investment, affordability can be an issue. In the DC area small condos less than 1,000 sq ft can go for over $350,000.

Condo fees: Don't be dazzled by all the amenities in a condo complex until you understand what they will cost you. The pool, exercise facility and tennis courts aren't free. The Association fees pay for upkeep of common areas, and the fees will vary depending on the amenities available. Be prepared for unexpected assessments, like roof replacement, out of the ordinary repairs, etc. These costs will often be divided and billed to the condo owners.

Condo Association rules: The rules are determined by the condo owners and are meant to protect property values. However, some can be quite restrictive, even though you will still have more control than you would have in an apartment. Some may not allow smoking or pets (or restrict number, type, size, breed, etc.), or impose a variety of other rules. So if bringing your pampered pooch with you is a must, then make sure you know what the rules are before you put down your down payment.

Noise: Let's face it, noise is part of urban living. There is no way to avoid it. Living in a condo, you share a walls with your neighbors, can sometimes hear people in the hallways, and there is the ever present noise of traffic and city life. While this isn't necessarily bad, it is something to be prepared for, especially if you are new to the city and condo living.
Buying a Condo
When purchasing a condo, you will need to go through the mortgage process, just like you would on any other home. However, in additional to the mortgage application, there may also be an application process with the Condo Board. Depending on the situation, the Board may request letters of reference and even an interview, before approving you to purchase and become a member of the Association. This isn't necessarily a bad thing, it's just another step of the process to be aware of.
You will also need to obtain insurance that covers the inside of your condo (from the "walls in", generally). The Condo Association will have insurance on the structure of the building and the grounds (called a master policy), but this does not cover the interior of your unit.
Before making an offer, you will want to find out the answers to the following questions, so that you can property assess the pros and cons:
How much are the Association fees?
What are the Association rules?
What all do the fees pay for?
Are previous Association meeting minutes available?
Are there any large-scale repairs planned in the near future?
Are there restrictions on pets (type, breed, size, number, etc.)?
Are you allowed to rent out your unity?
Are there any community social events?
What is the noise level for the unit you are interested in?
If you are interested in purchasing a condo in the Northern Virginia or Great DC area, we can help! When it comes to buying or selling your home, we are here to help answer any questions and guide you through a better understanding. Please do not hesitate to contact us at
info@piersonrealestate.com
or phone us at 202.800.0800.
Tags: Tim Pierson, Northern Virginia, First time home buyers, Condos, Buying a Home, Buying a Condo