The Amazon campus in Arlington has the entire Northern Virginia region abuzz with anticipation. So much so that DC Curbed recently reported on the "Amazon effect" that has caused median home prices to jump $100k in the Arlington community.
In May, via a blog post published by Amazon, the company announced that it had filed proposed development plans with Arlington County for the initial "ground up" construction at the Metropolitan Park location, which dovetails with existing urban renewal projects in National Landing.
The initial phase, according to Amazon, will redevelop vacant warehouses into two new, 22-story, LEED Gold-certified buildings, as well as retail and public spaces. Eventually, the entire campus will house 25,000 employees.
The company has stated that, "We are looking to build an urban campus that will allow our employees to think creatively, to be a part of the surrounding community, and to remain connected to the region's unique culture and environment." In addition, the company plans on "integrating sustainable design features throughout our campus".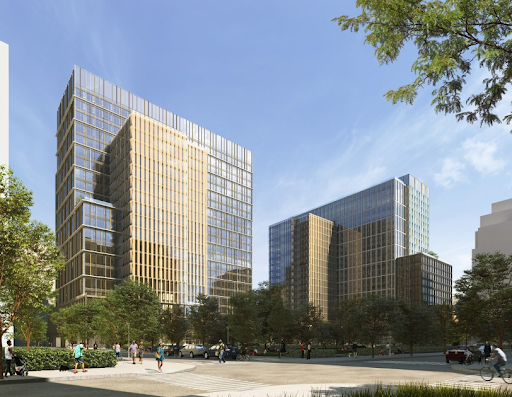 (Rendering by ZGF Architects/Courtesy Amazon)
While approval of the company's plans by Arlington County are still under review, Amazon has already begun posting jobs, beginning with HR and procurement, to fill the temporary offices located on Crystal Dr. It's expected that it will take a decade to complete the development and fully staff the new headquarters. Average salaries are expected to be around $150,000, generating $3.2 billion in tax revenue for the state and local governments.
In March of 2019, local Arlington officials approved a financial package worth an estimated $51 million, in addition to the $481 million already approved by the county and $750 million provided by the state of Virginia, according to Reuters. Amazon expects to invest more than $2.5 billion dollars in building the Arlington Campus over the next ten years.
Here are some of the innovative plans for the first phase of the new campus:
Sustainable LEED Gold-certified buildings
The two new buildings will house 2.1 million square feet of energy-efficient office space, utilizing state-of-the-art workspace design. Outdoor terraces will provide greenspace for employees to enjoy.
Retail and restaurant Space
At street-level, there will be 50,000 square feet of space allocated for retail and restaurants that will serve the community and Amazon employees. In addition, the street-level plans include a daycare that can be used by employees and the community.
Centrally located park
New greenspace will be added that will allow for a variety of public uses. With over 1.1 acres of space, designers have planned for such facilities as a dog park, recreational areas, and farmers markets.
Reducing the carbon footprint
With 25,000 employees expected, the burden on local roads and highways, as well as emissions and fuel consumption is of concern. The plans call for construction of a cycle path on South Eads Street, which will link up with existing bike paths through Arlington. There will be employee parking space for 600 bikes onsite. In addition, there are two metro stations near the campus, along with access to multiple other avenues of public transport. According to Amazon, more than half of Amazon employees at the main headquarters in Seattle do not drive to work.
We are excited to see things continue to develop as plans for the Arlington Amazon HQ move forward. When it comes to buying or selling your home, we are here to help answer any questions and guide you through a better understanding. Please do not hesitate to contact us at info@piersonrealestate.com or phone us at 202.800.0800.
Tags: Tim Pierson, Northern Virginia, Amazon Headquarters, Arlington