Many of our clients wonder why property valuations completed by professional REALTORS® vary so widely from the Zillow Zestimates. The Zillow Zestimate is a popular tool used by many homeowners to quickly check the estimated value of their properties, so that they can determine if it's the right time to sell or refinance. It's fun to watch your equity grow!
But relying on Zestimates as the sole source of information can lead to frustration and disillusionment down the road. No automated tool and algorithms can really take the place of good old-fashioned market analysis and the knowledge and skill it entails.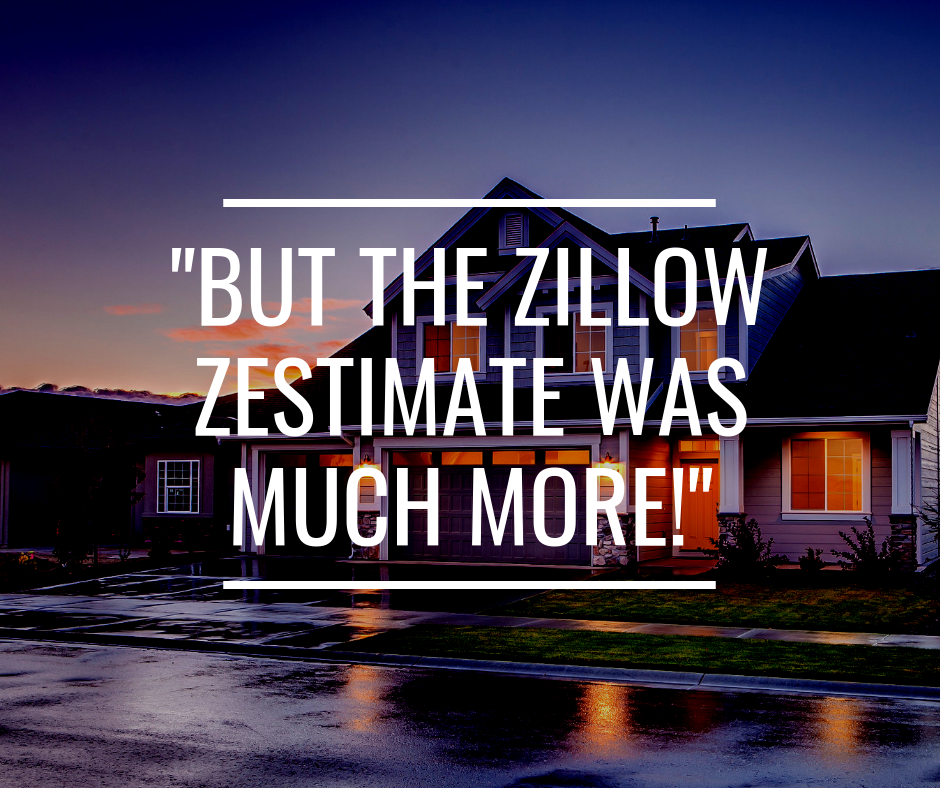 Garbage In/Garbage Out
Several times per week, Zillow updates it's calculations based on public data and user-submitted data. However, sometimes the information that is collected to drive the calculations is simply incorrect. Number of bedrooms or bathrooms, lot size, and other variables that feed the algorithms will produce incorrect valuations if the information provided to Zillow is not accurate. Zillow doesn't really have control of this input, as it relies on the accuracy of public records and owner-supplied information.
Zillow reports estimated value ranges for individual properties as a way to overcome the accuracy issue. If the range only varies by a few thousand dollars, then it is likely a more accurate representation than a range that spans 10's of thousands of dollars. From an owner perspective, look at both the high and low numbers in order to properly set expectations. Don't assume the high number is what you could get for your home.
Inaccurate Tax Records
When comparing your home to other comparable homes in the area, Zillow relies on tax data. It looks at the value of your home the last time it was sold, plus the recent recorded sales in the area. If any mistakes were made in the data entry for your home or the comparables that Zillow use to calculate your Zestimate, then it will result in inaccurate numbers. In accuracies in your own tax record could be throwing off your neighbor's values, too.
The algorithm also considers the property tax assessments and the amount of taxes paid. Any discrepancies in this info. Tax assessors' property values are notoriously disconnected from actual property values, though. So the value of information based on these figures should be suspect. If there is inaccurate data displaying on Zillow, you can have it corrected, but other errors may require a conversation with the local tax assessor.
Remodels and Upgrades Are Often Unknown
Zillow can only use the information that is available publicly through tax records or information provided by the owner. So if you did a major bathroom and kitchen upgrade, but it required no permits, then Zillow may have no way of knowing about it. Conversely, if you added on a 1,000 sq ft addition or completed other work that required a permit, which then ultimately impacts your tax assessment, then your Zillow Zestimate may at some point reflect those updates.
What exactly does this mean? It means your neighbor's home with the 1970's retro Avocado-green kitchen will likely be valued similarly to your gourmet kitchen with granite counters and custom glass tile backsplash. So how reliable is that?
One factor that homeowners often forget is that just because you spent $60K to upgrade your kitchen, does not mean that it automatically translates to a $60k bump in the value of your home. Home improvements rarely increase the home's value dollar-for-dollar. A lot depends on the local market, major trends, and other factors that would be difficult for an algorithm to translate.
Hot Markets are More Accurate
Since Zestimates are driven by public information, the more information that is available, the more accurate the calculations. If you live in a really popular neighborhood, with a lot of homes being bought and sold throughout the year, Zillow will have more data to digest than a rural home with few neighbors and low turnover.
Zillow isn't perfect, nor has it ever claimed to be. Zillow acknowledges it's error rates (currently around 6% but can be as much as 30%), and is constantly working to improve the calculations. It's really interesting to note that in 2018 the Zillow CEO Spencer Rascoff sold his personal home for 40% below the Zestimate of his own home! It's simply a tool, among many other tools, that provide information to homeowners. It's meant to be a guideline, not a hard and fast appraisal. The best way to gauge the value of your home is to consider multiple sources, including a Comparable Market Analysis (or CMA) from your REALTOR®, and a professional appraisal. Even then, there may be some factors, such as limited comparables in the area and personal opinion of the appraiser, that will skew the valuations. But when taken altogether, you should come out with a pretty good idea of what your home is worth.

We are happy to help you value your home with a Comparable Market Analysis. When it comes to buying or selling your home, we are here to help answer any questions and guide you through a better understanding. Please do not hesitate to contact us at info@piersonrealestate.com or phone us at 202.800.0800.

Tags: Tim Pierson, Northern Virginia, home value estimates, Comparable Market Analysis, selling your home, home values