Last year we posted a blog by our very own TJ Walter, that provided some insight on how to add the thoughtful touches to your holiday gifting. As we are once again about to enter the last minute scramble for holiday gifts, we thought it would be a good idea to revisit some of TJ's ideas. Take it away, TJ!
______
Originally posted December 9, 2017

At this point you are likely in one extreme of the gift buying stages – You started Dec. 26, 2016 and finished up your last few stocking stuffers last week in the Labor Day sale bins…or… Black Friday is the official kick off of your holiday shopping and you spent that whole weekend buying all the things you wanted and now are stuck trying to figure out what to get all your loved ones.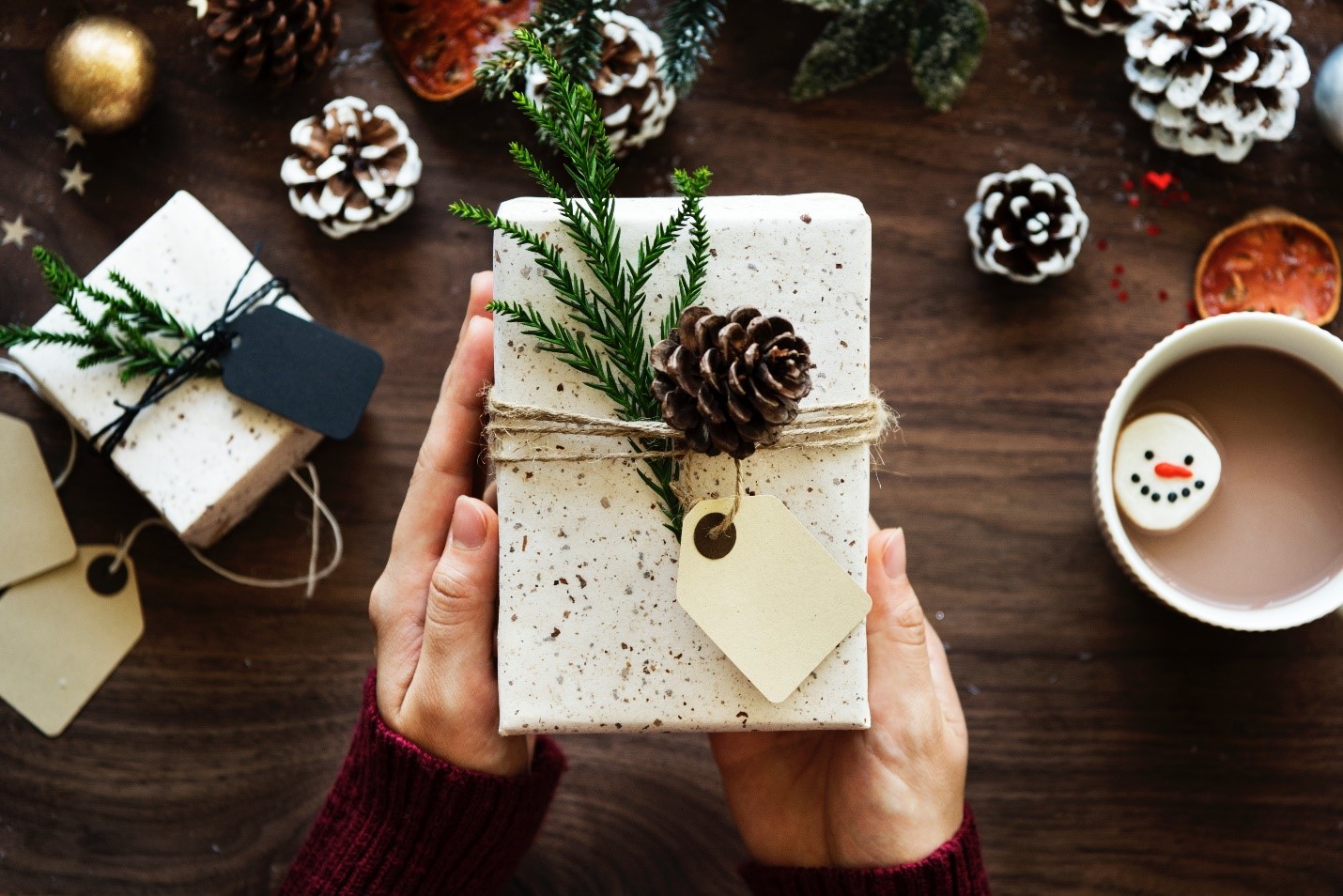 If you find yourself in the second camp we want to help out with two quick gift buying tips from a book I read recently, Giftology by John Ruhlin. The author is the founder of the Ruhlin Group, who at their core are professional gift givers, or as their tagline states "A gift strategy and logistics company." In the book, which I highly encourage you to add to your 2018 reading list, Ruhlin outlines a wide range of tips and ideas all centered on gift giving. While it is focused on business leaders and how thoughtful gift giving can deepen your connection with clients, nearly all concepts can be executed both in business and personal relationships.
Be Unique: Whenever possible, try and find something handmade or locally sourced. Let's say you are wanting to buy something for a loved one's home – drink coasters, frame, vase, etc. You can walk into any big box store and buy a set of beautiful drink coasters or a glass vase. Those gifts would likely be appreciated and hopefully make a lasting impression (See the next point for more on this) but what if you took the extra step and found a local artisan who makes handmade leather coasters that can be personalized to the city, the home or the person receiving it. If I have learned one thing about retail, everything goes on sale and your gift isn't very special when the person goes into Target to see their coasters on the clearance aisle. In the case of the personalized item, each time they see it or utilize it they are reminded about your thoughtfulness and hopefully on a deeper level they will come to know how much you value that relationship that you took the time to give something unique and, in their mind, one- of-a-kind.
Make it Last: First off, I am all for experiences and believe that in some cases, experiences (dinner, concerts, etc) can be almost priceless and create memories that will last a lifetime.

With that said, if the experience can be bought via the gift card aisle at the grocery store I would argue that you run the risk of it being forgotten shortly after the bill is signed. I love how Ruhlin addresses this in the book:
Instead of gifting with something that will register as a blip on the radar, choose an item that will serve as the artifact of your relationship, something that becomes woven into the very fabric of their lives.
While this may sound difficult, all it really involves is going one layer deeper in your conversations or, even better, just paying attention when someone is sharing their thoughts on a day-to-day basis! An easy example of this is a person who enjoys wine. A nice bottle of wine would be a nice gift and perfectly acceptable but what if you went one layer deeper: What is their favorite type of wine? Based on this you could purchase a set of specific glasses (Burgundy, Bourdeaux, flute) that are specifically created to highlight the nuances of that type of wine.
Maybe you don't know their favorite type of wine but you see that they are using a standard $5 corkscrew. In this case you could purchase a special corkscrew (Maybe the Code38 Corkscrew – the exact model used by master sommeliers around the world). As you can see, just one more question or paying attention for 10 seconds longer could create a lifetime of memories for that person.
These are just two of the many points outlined in the book so if you are looking to become a better gift giver I would suggest picking up a copy! But, no matter if you begin to look at your gift giving through this lens (which is a line repeated through the book) "It's not the thought that counts. It's the thoughtful thought that counts" I would bet that you would see a new level of satisfaction in yourself and appreciation from the ones receiving the gift.
When it comes to buying or selling your home, we are here to help answer any questions and guide you through a better understanding. Please do not hesitate to contact us at
info@piersonrealestate.com or phone us at 202.800.0800.


Tags: Tim Pierson, TJ Walter, Northern Virginia, DC Metro, Pierson Home Team, Holiday Gifts, Giftology, Hospitality